I was too tired at the end of the trip to write, so here's the last installment of the blog.
Public defender and the criminal justice system
After a brief visit with Pastor Andrew Rickel, Lutheran-Episcopal campus pastor in Atlanta, who brought coffee and shared about his ministry, we got to hear from Willymena Joseph, a public defender in DeKalb County (part of Atlanta) who previously served in more rural areas of Georgia.
Public defenders defend about 85% of all cases brought to trial. As a public defender, there are 2 ways to handle cases given to you: you can follow the constitutional minimum of defense, which assumes that those unable to pay don't deserve the same level of representation as those who can pay. These defenders often encourage their clients to take plea deals and don't investigate their cases at all.
Then there's a client-centered approach, where defenders establish a relationship with the client, talk to witnesses, tell their story at trials and give the client all the info they need to make their own decisions in the case. DeKalb County has invested state and county tax dollars in order to train public defenders and has mandated a client-centered approach in all trials. And the Public Defenders Council has pushed to pay public defenders on par with prosecutors to retain qualified persons in this work.
Ms. Joseph says that she sees a lot of cases brought in my over-policing, especially in urban areas with large percentages of African-American residents. But when it comes to prosecuting cases within the criminal justice system, she sees more injustice due to poverty than race. Some of this has to do with the bond system, with those unable to post bond for financial reasons waiting for trials sometimes up to a year, which means a year without the ability to work. She works to get people arrested on minor charges (primarily drug and theft charges) out on bond as quickly as possible as a way to get them back to work and calls family and church members to speak for them in bond hearings. For those not available for bond, she files speedy trial requests to speed up the process of waiting in jail.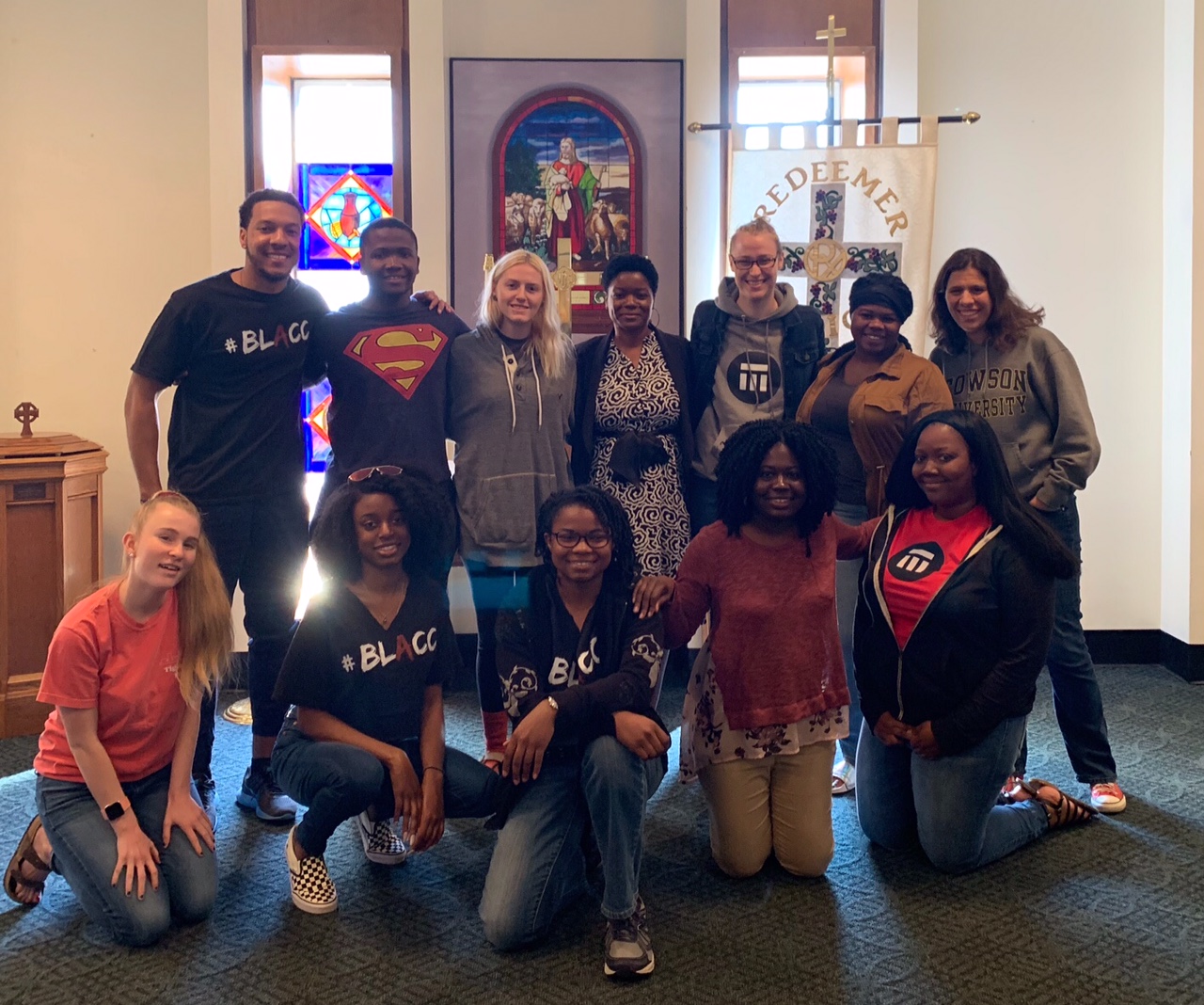 Ms. Joseph told us that due to her faith (she was raised in the Pentecostal tradition and went to church every day growing up), she felt she couldn't personally be a judge, because she couldn't stand in judgment over another person. "Faith gives you compassion," she told us and as a follower of Jesus, she can't look at someone else and not see them as a brother or sister.
So what can we do if we're not called to work directly in the criminal justice system? "Show up in court. Sit in a trial. Serve on a jury when you're called up. Hold the powers that be accountable. And work with groups like Gideon's Promise," Ms. Joseph told us. https://www.gideonspromise.org/" target="_blank"> Gideon's Promise trains and support public defenders to work for clients who can't afford representation as powerfully as those who can.
Martin Luther King National Historic Site
As Pastor Flippin encouraged us, we looked more intently at MLK's work in 1965-1968, work not talked about as often in our history books. This was when MLK turned from focusing primarily on civil rights to focusing on economic opportunity for disadvantaged communities and spoke against the dangers of militarism. And it was in 1967 that he began the Poor People's Campaign, a movement resurrected in our time by The Rev. Dr. William Barber.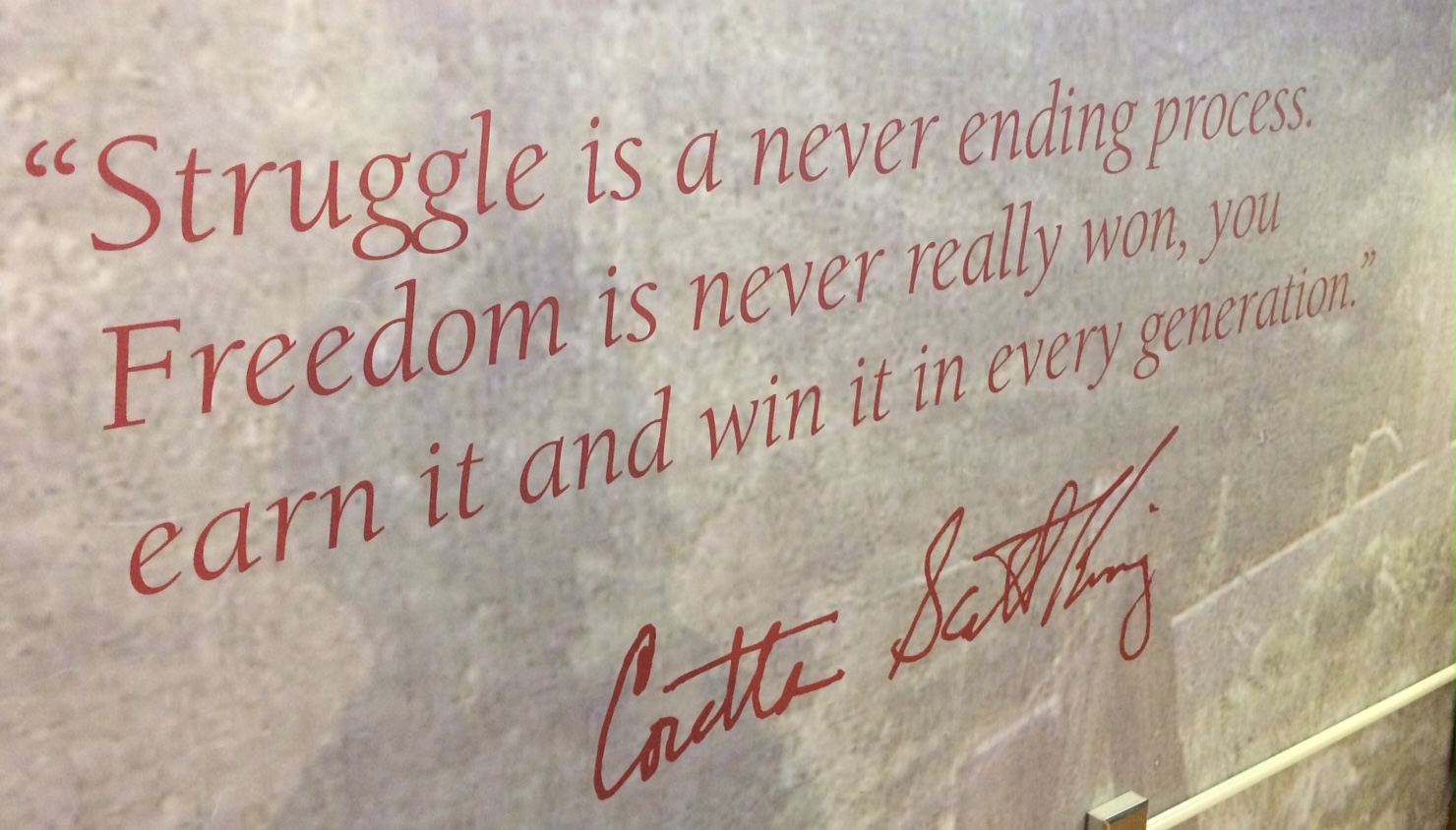 MLK's quotes stand on their own and don't really need any other words:
"Laws are passed in a crisis mood after a Birmingham or a Selma, but no substantial fervor survives the formal signing of legislation. The recording of the law in itself is treated as the reality of the reform."
"A few years ago there was a shining moment in that struggle. It seemed as if there was a real promise of hope for the poor -- both black and white -- through the poverty program. There were experiments, hopes, new beginnings. Then came the buildup in Vietnam and I watched the program broken and eviscerated as if it were some idle political plaything of a society gone mad on war, and I knew that America would never invest the necessary funds or energies in rehabilitation of its poor so long as adventures like Vietnam continued to draw men and skills and money like some demonic destructive suction tube."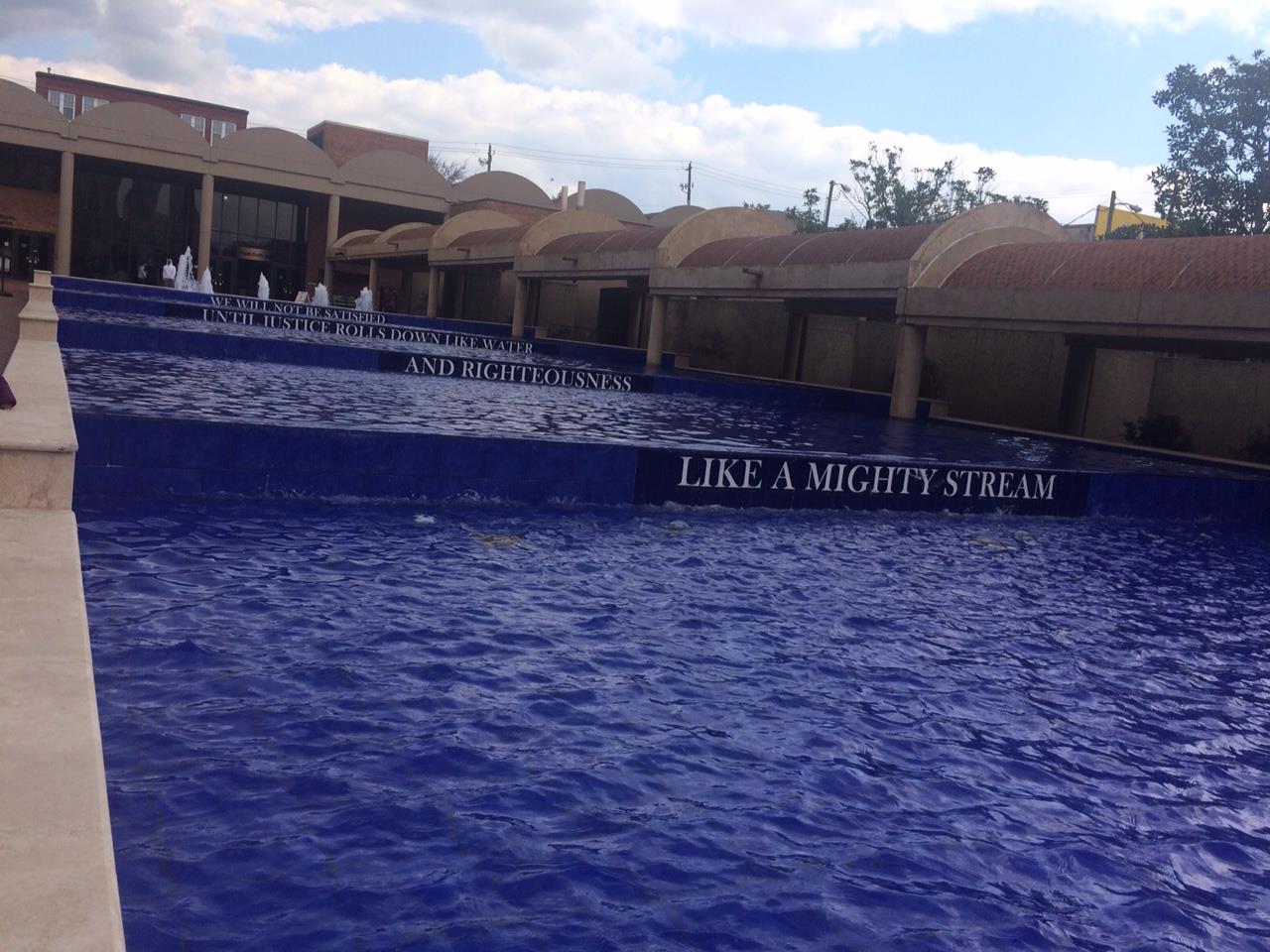 "The practical cost of change for the nation up to this point has been cheap. . . There are no expenses, and no taxes are required, for Negroes to share lunch counters, libraries, parks, hotels and other facilities with whites…. The real cost lies ahead. The stiffening of white resistance is a recognition of that fact. . . Jobs are harder and costlier to create than voting rolls. The eradication, of slums housing millions is complex far beyond integrating buses and lunch counters."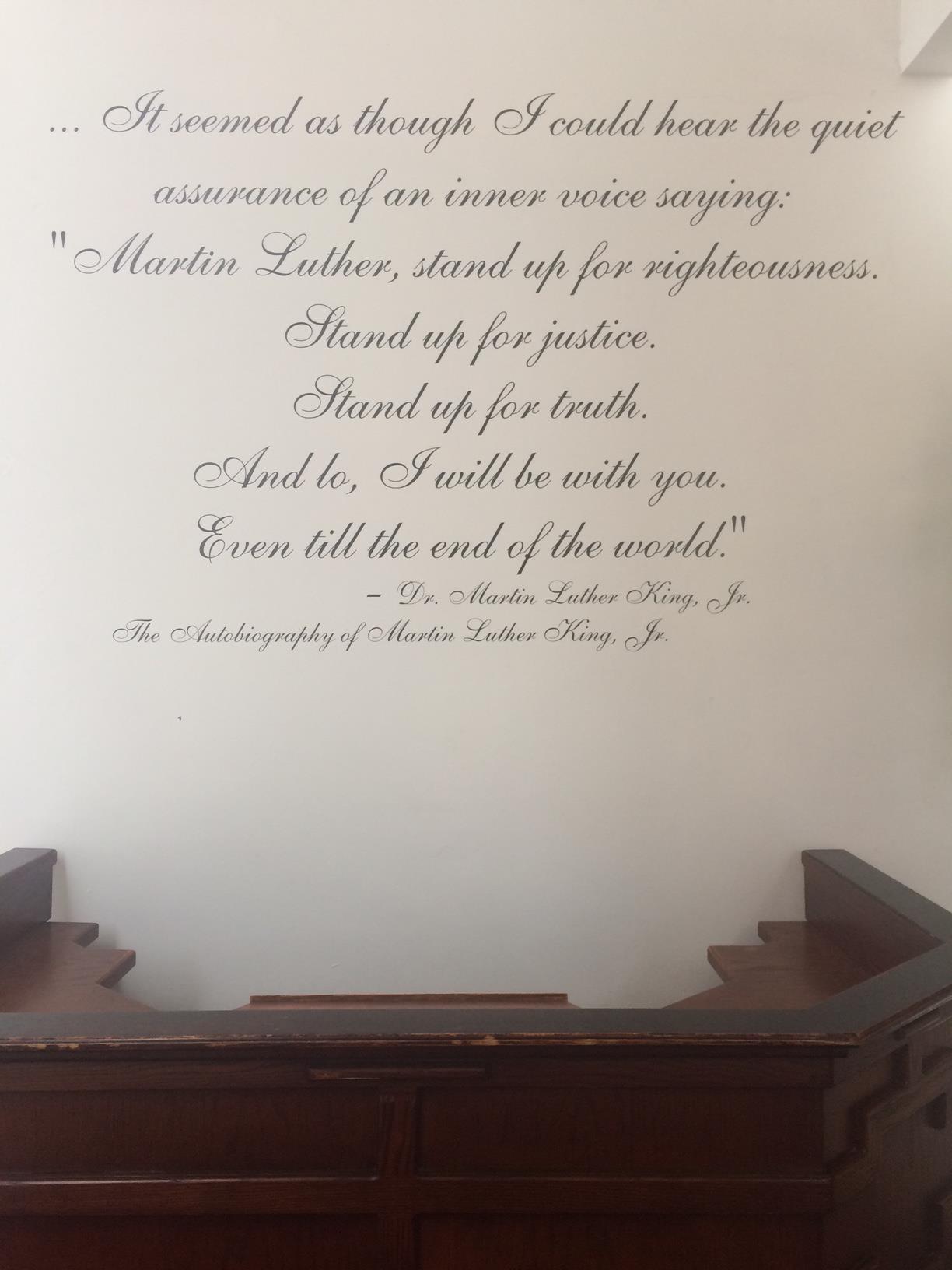 Then some of us sat in Martin Luther King's boyhood church to him speak again about his call to this justice work, a call God gave him that ran counter to his ambition as an academic preacher. And we stood at his grave to see rushing waters that envisioned the time when the prophet Amos said that righteousness would run like an ever-flowing stream. And we read again his principles for non-violence, inspired by Jesus and guided in practical ways by Ghandi, which remind us that nonviolence is "aggressive spiritually, mentally and emotionally." The purpose of it is not winning against the other side, but the creation of the Beloved Community.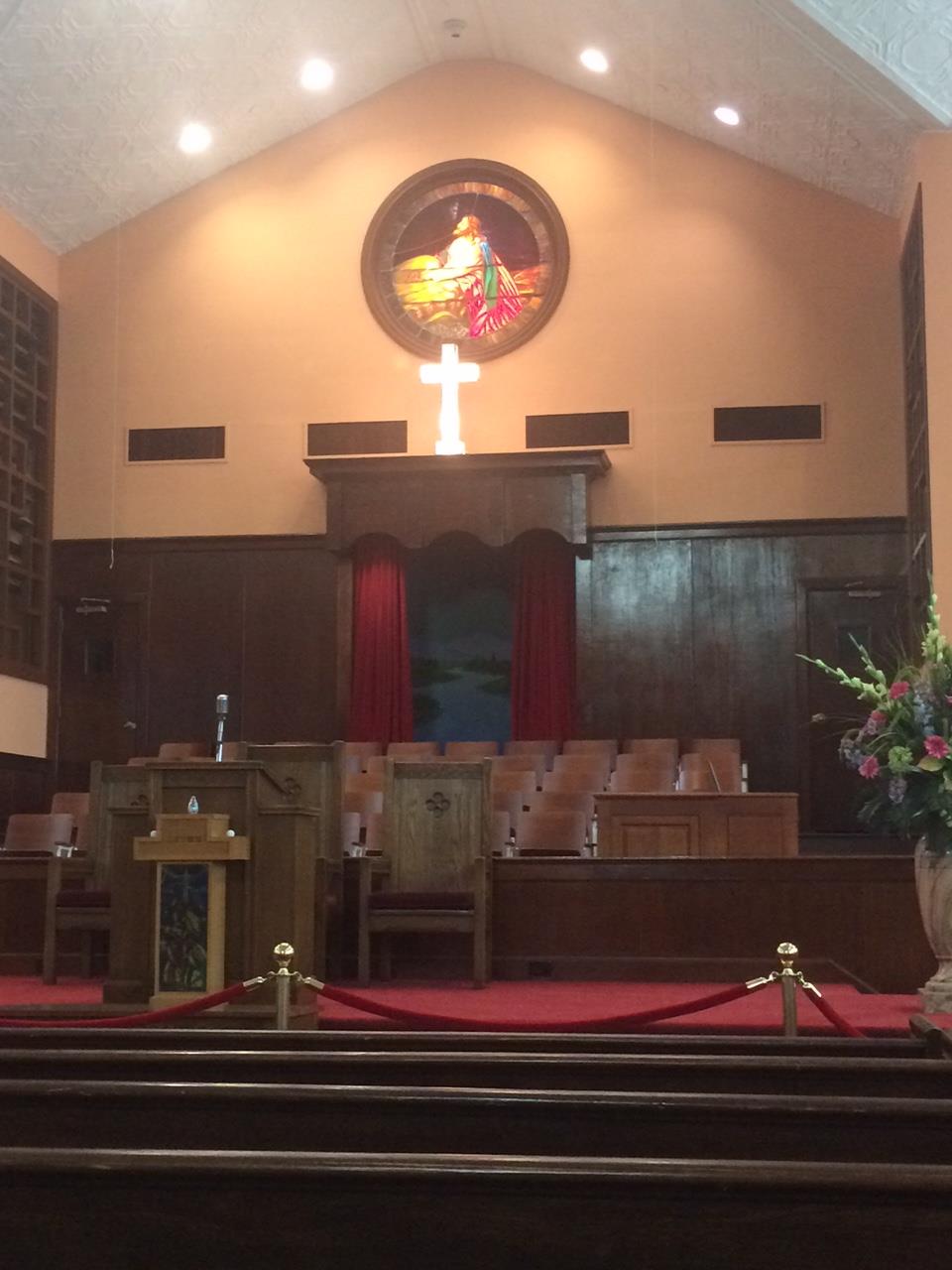 Closing Worship
Towson alum, Alicia, who lives in the Atlanta area, stopped by for dinner and shared some stories of our our first Spring Break trip together back in 2011. And she sayed for our closing worship, where we gave thanks for where we had been and for those who had gone before us. And we prayed for the work still to be done. And for our offering, we offered up those things from this trip that we will bring back to the communities we return to. We'll include some of those thoughts in our final blog post.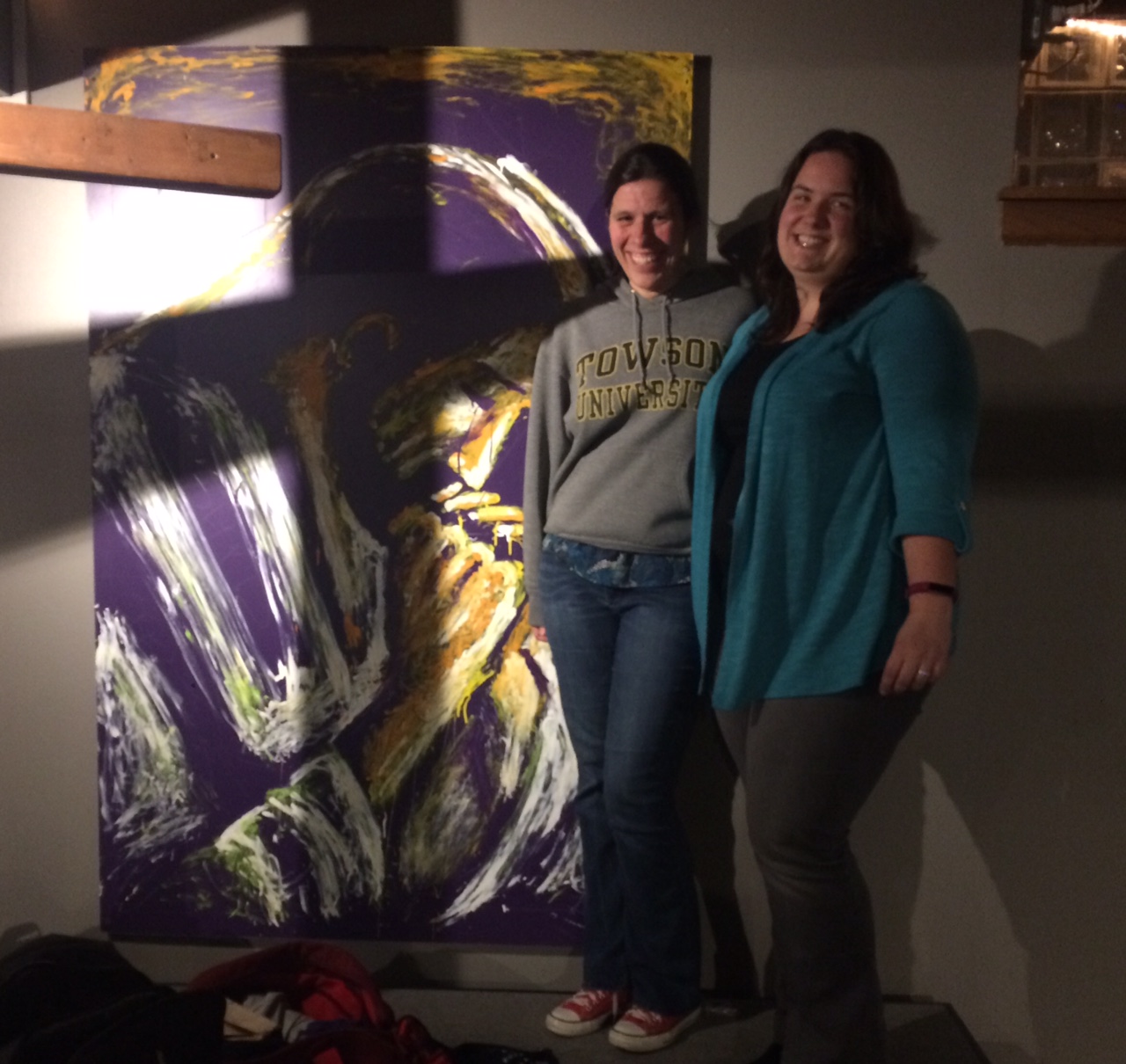 And some of us ended with a light show at Centennial Park, and photos with the Olympic rings before the 12 hour trip home the next day.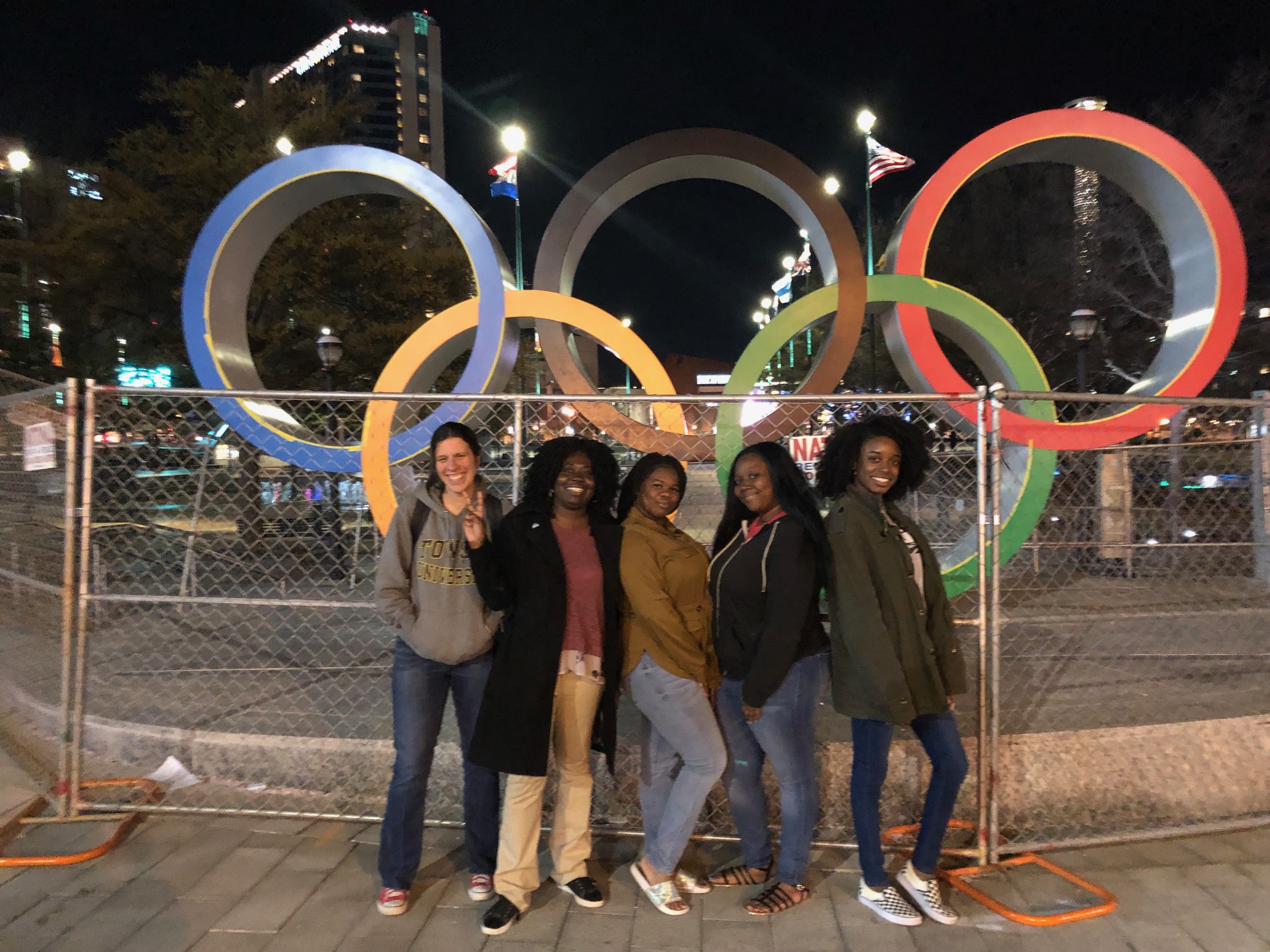 AID Atlanta
We left history behind this morning and stepped into the present, meeting with Nicole Roebuck, the Executive Director of AID Atlanta (and, we found out, a Lutheran!) They have been working for 37 years to support people living with HIV/AIDS, educate the community about prevention, and provide STI testing. While in the beginning their work was about helping people die with dignity, now, with medical advances, it is about getting medication and healthcare to help them live a healthy life with HIV/AIDS.
The Atlanta area ranks 5th in the nation in HIV/AIDS infections and therefore receives money from the federal government for prevention and to support folks living with the disease. AID Atlanta runs clinics in the city and in more rural areas since Georgia ranks first in the nation in HIV infection rate. While HIV rates are decreasing nationally, they are increasing in Georgia. And 70% of those living with HIV are African American.
High incidence in the area and especially in the African-American community is driven by poverty, racial disparities in healthcare and stigma (about sexual activity outside marriage and homosexuality) that is often both cultural and religious. Especially in rural areas, it's hard to walk into an AID Atlanta clinic if your whole town will see you do it. Stigma and lack of access to healthcare also drives a higher rate of mother to child transmission, since pregnant women often won't access pre-natal care due to stigma around pregnancy outside of marriage or thinking they can't afford it. With medication, we can prevent mother-child transmission.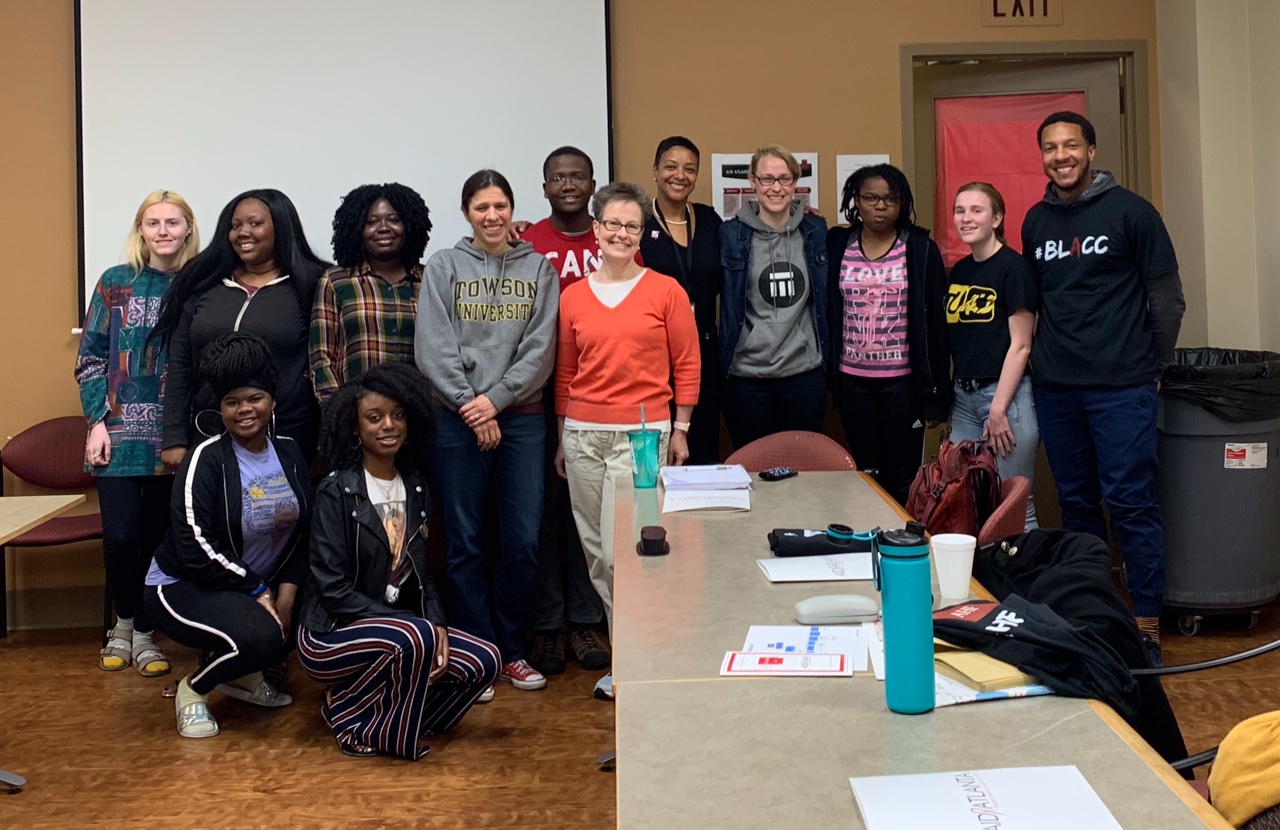 Georgia, largely driven by a conservative Christian culture, doesn't have comprehensive sex education in schools, but follows an abstinence-only curriculum. AID Atlanta is only allowed to come and educate in individual classrooms at the request of a teacher and can't present information to a wider audience in the schools, such as a school assembly.
And most churches (beyond the more progressive ones) are not eager to support their education efforts and to support people with HIV/AIDS. This lack of support is even more common among historically black churches, even though the rate of infection is much higher in the African American community.
But we don't have to agree with the choices people make regarding sexual activity to advocate for them and support their health. We don't have to agree with people's actions to want life for them. And encouraging safer sex when people choose to engage in it doesn't mean we support all sexual activity no matter what. These teachings can be supported alongside our own faith teaching about honoring God's gift of sexuality. And caring for our brothers and sisters who are most vulnerable is a deep part of who we are always called to be as God's people.
Merry Mac's Tea Room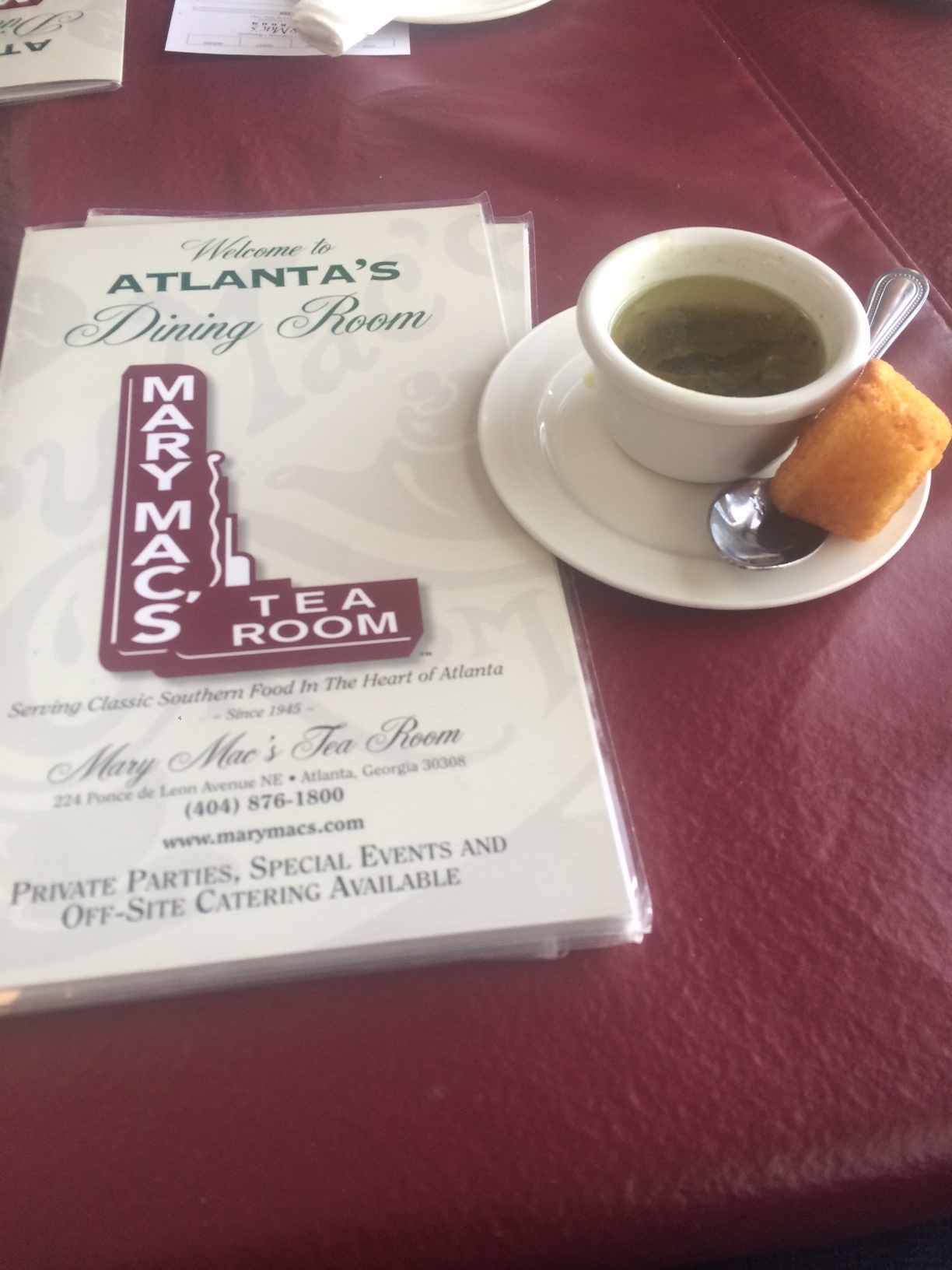 It's been a long trip. So we switched up our plan for the afternoon and went out for some celebrated southern food at Merry Mac's. (a treat afforded us by a generous gift from a supporter!!) And over that delicious cornbread and greens and chicken and dumplings and sweet potatoes and mac and cheese and. . . . we talked about how we each got our names and about the places we're from and enjoyed how good it is to laugh and share as a family made by our week together.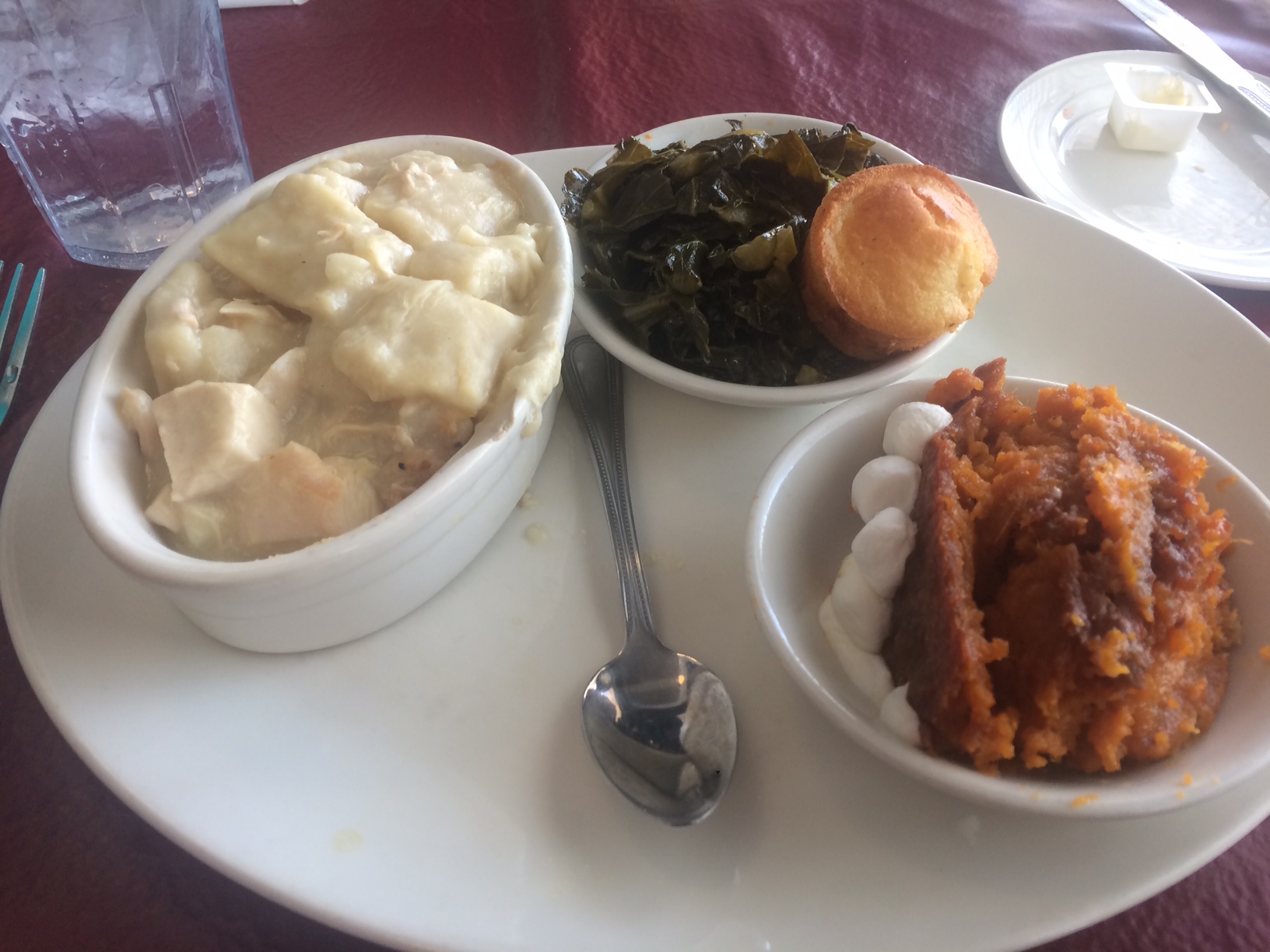 Emmanuel Lutheran, Pastor William Flippin and Do the Right Thing
This afternoon and evening was spent at Emmanuel Lutheran in Southwestern Atlanta. Pastor William Flippin and some folks from Emmanuel hosted us (and treated us to pizza!) and tied in a few more details about the Civil Rights sites that we'd been to so far.
And then we switched things up and watched Do the Right Thing together, the 1989 Spike Lee film to talk about racial relations now and our role in that. We talked about representation of people that look like us in our communities, how we deal with power of other groups when we think that may threaten our own, and how our own prejudices, which we may carefully try to hide much of the time, may rise to the surface when we're pushed.

Pastor Flippin and his office assistant Linda talked about Atlanta being described as the "city too busy to hate" but that doesn't mean that prejudice and discrimination isn't there, but it's not as obvious as in rural counties. (And in the state it's obvious, since every single state office is held by a white man!) Linda went to school in a rural county and told us that when the schools were forces to integrate back in the 60s, some counties chose to have girls' schools and boys' schools, which seemed to play into their need to protect white women from African American men, which has been a continuing refrain throughout our walk through Civil Rights history.
And, driven by the movie, we talked about the tension between Malcolm X's philosophy of violence when necessary and MLK's philosophy of non-violence and making decisions about what way we will live and how we will support communities who are hurting and facing injustice. The answers aren't always clear or easy.
Pastor Flippin encouraged us to think about evolution- how we evolve in our thinking about the ways we engage the powers that be. Especially as we head to the MLK historic site today and look at his tactics before 1965 (which we've been seeing this week) and his work from 1965 until his death, which focused on economic disparity and militarism.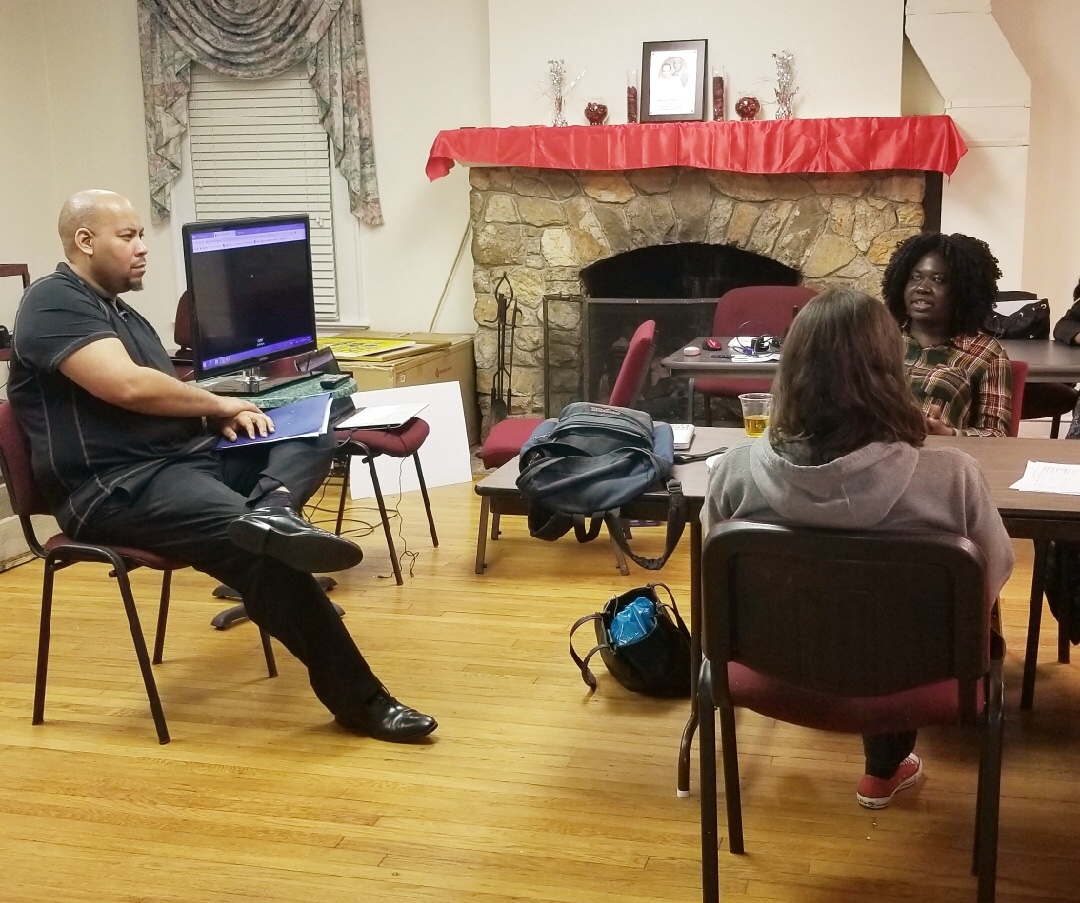 We have a choice in how we are going to evolve. I pray that for people of faith, Jesus may be the one leading that change, rather than our often-warped culture and our own internal prejudices, so that we may evolve beyond our fear of the other and our need to protect our power at all costs. And I pray that, following Jesus, we will also learn to love our neighbors by fighting for their need for justice as seriously as we want to fight for our own.
And we ended our day with a free cone at Dairy Queen to celebrate this slightly chilly first day of spring in Atlanta.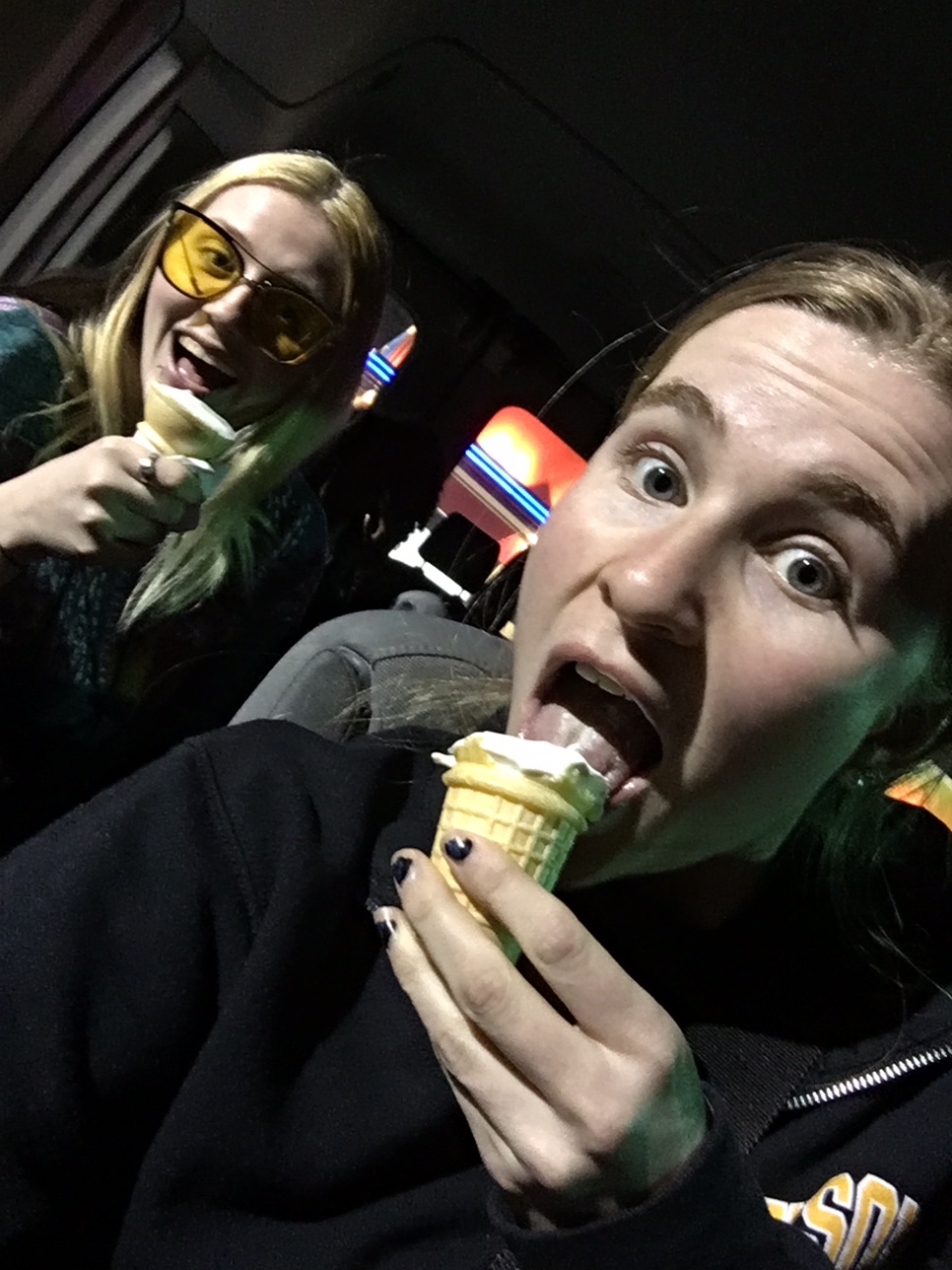 All this is from God, who reconciled us to himself through Christ, and has given us the ministry of reconciliation.- 2 Corinthians 5:18
Jeannie Graetz
We started the day with a visit from Jeannie Graetz, wife of Pastor Robert Graetz. Pastor Graetz was a white pastor in Montgomery during the time of the bus boycotts and relentlessly supported his parishoners. He is too ill to speak to groups anymore at age 90, but Jeannie (a young 89!) cares for him full-time and still speaks to groups quite often.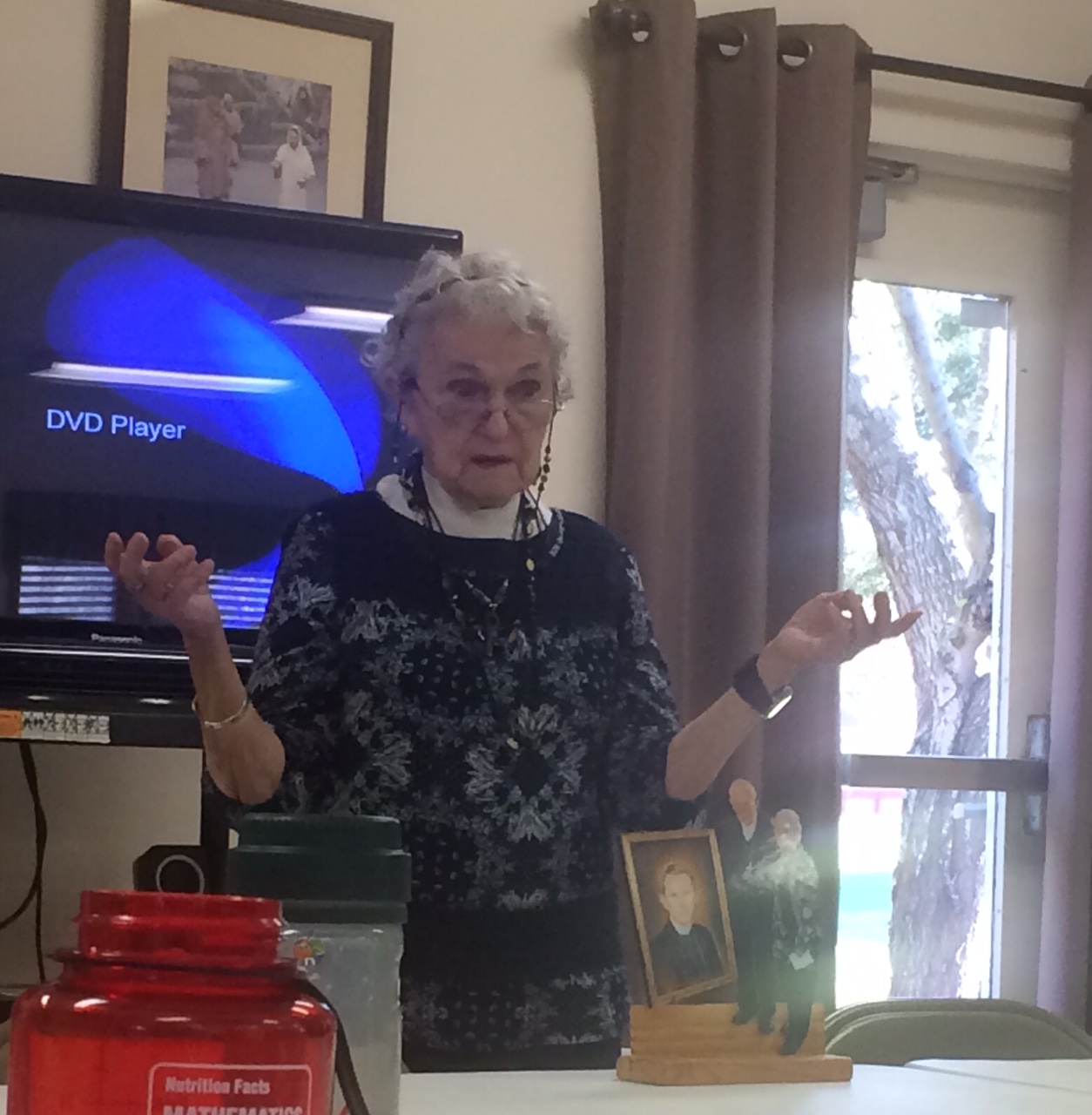 Pastor Graetz was a "rabble-rouser" in seminary, pushing others to talk about racial relations and when he got sent to Trinity Lutheran in Montgomery, he was told not to start trouble. But, as Jeannie says, "We didn't start trouble, but we did join it."
Their neighbor, Rosa Parks, who led an NAACP youth group in the basement of Trinity Lutheran, where Pastor Graetz served. And when she refused to move to the back of the bus, Pastor Graetz went to a mass meeting and became a part of the Montgomery Improvement Association that Dr. King led.
He was the only white leader in the movement and said he was freer to do that since he wasn't dependent on whites for his salary, since his congregation was African-American. As the one-day planned boycott stretched to over a year, Pastor Graetz drove people and supported the movement. He knew it put him in danger, especially because he was white. And the Klan threatened their children and bombed their home 3 times and the only reason they survived is the last bomb didn't ignite.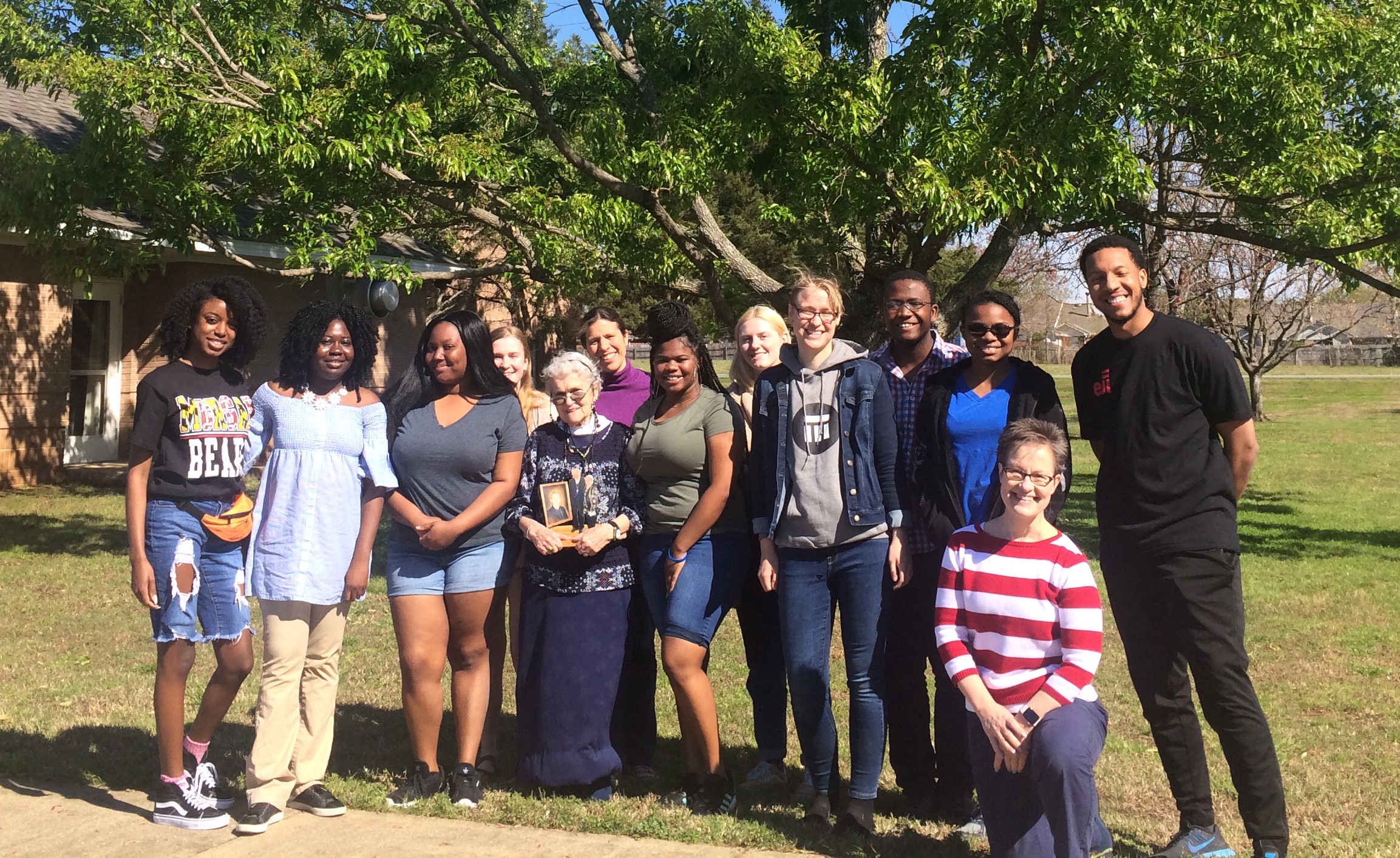 She shared about her continued fight for justice, especially for the LGBTQ Community. And her absolute anger at injustice anywhere. There is a joy about Mrs. Graetz that obviously comes from a life immersed in work that matters and a trust in God above all that she has gone through. She and her husband of 67 years have lived their lives working for reconciliation between peoples and communities every way they know how, following their Jesus who entrusted this ministry of reconciliation to us.
Freedom Rides Museum
After lunch, we were off to the Freedom Rides Museum to hear about college students and young adults who challenged interstate bus segregation. And we heard the story of Irene Morgan who refused to give up her seat on a Greyhound to a white passenger and won her court case against the bus company. And that, even after laws were passed outlawing segregation in transit, Alabama flat out refused to comply.
And we heard about the early Freedom Riders, young people who signed their last will and testaments before getting on those buses, knowing death was possible. After the first Freedom Rides failed to make it to their destination by bus Diane Nash, a Nashville college student, pushed for the rides to continue. (It was really great to hear about some more of the women involved the movement, who aren't always lifted up as much!)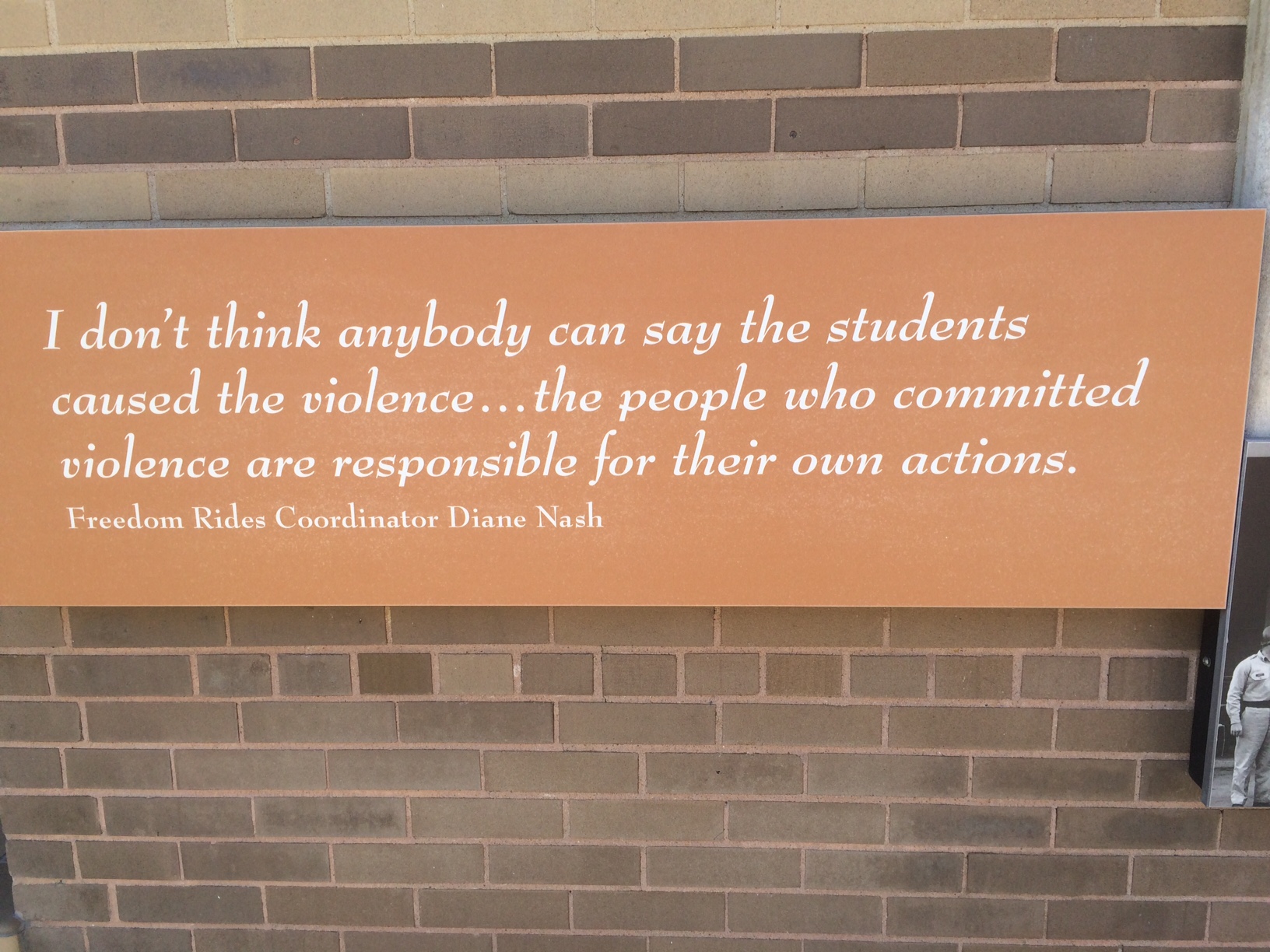 This ride included ministerial student Jim Zwerg, the only white participant on the second freedom rides. He knew that, because of his race, he would likely receive the worst beating. As he saw the mobs approach him, he said, "Forgive them for what they're about to do" echoing the words of Jesus from the cross. And that's what the words and ministry of Jesus are supposed to do. Not turn us into martyrs unless it is needed, but transform our vision enough that that we can walk into places where Jesus needs us with courage for the sake of our brothers and sisters!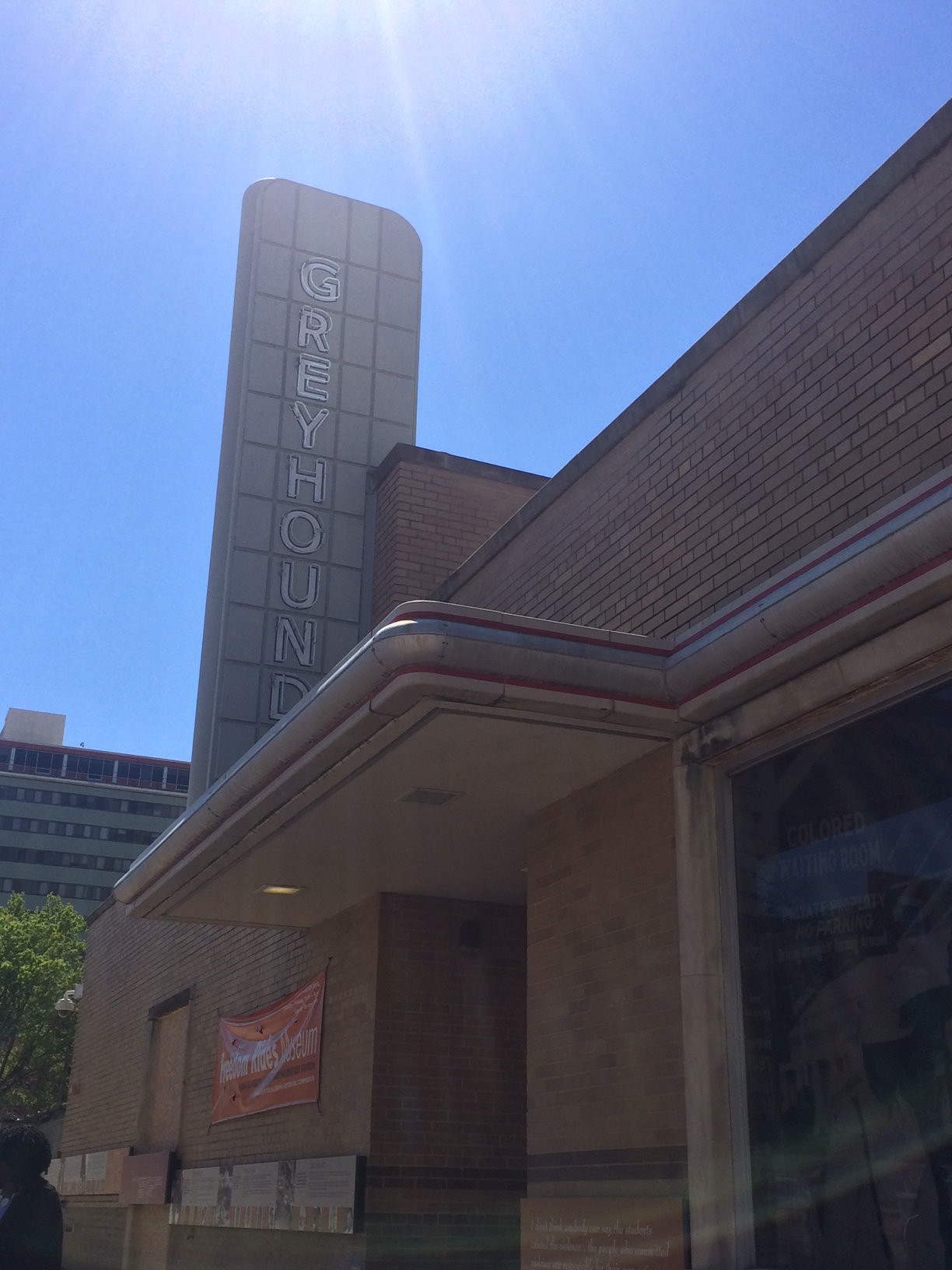 It has been heartening to see the names of so many white ministers who have risked harm to be a part of the Civil Rights Movement. These are names to be celebrated and sung. Not at the expense of the African-American leaders, most certainly, but lifted up so that white Christians would learn again what it means to embody Jesus' call for the sake of others. To remind the community I'm a part of that THIS can be our legacy some day, rather than the discrimination that is a much deeper part of our history as white Christians. Reconciliation of all that is broken in God's kingdom can be our legacy of working with God to recreate what is.
After this, our students went in different directions to continue the learning in their own way:
State House
Some toured the Alabama State House and saw the statues and murals celebrated in that state. Including the statue (and a mural on the capitol dome) of Jefferson Davis, the president of the Confederacy. And murals that exclusively celebrate the white part of Alabama culture- from depicting the conquering of Native Americans and seem to caricature African Americans following slavery were joyful to work at backbreaking labor. These murals were completed in 1930, which was a painful time for anyone not considered white in our country, but these murals are still enshrined in the seat of government without comment in their welcome brochure. What we enshrine we continue to normalize and even celebrate.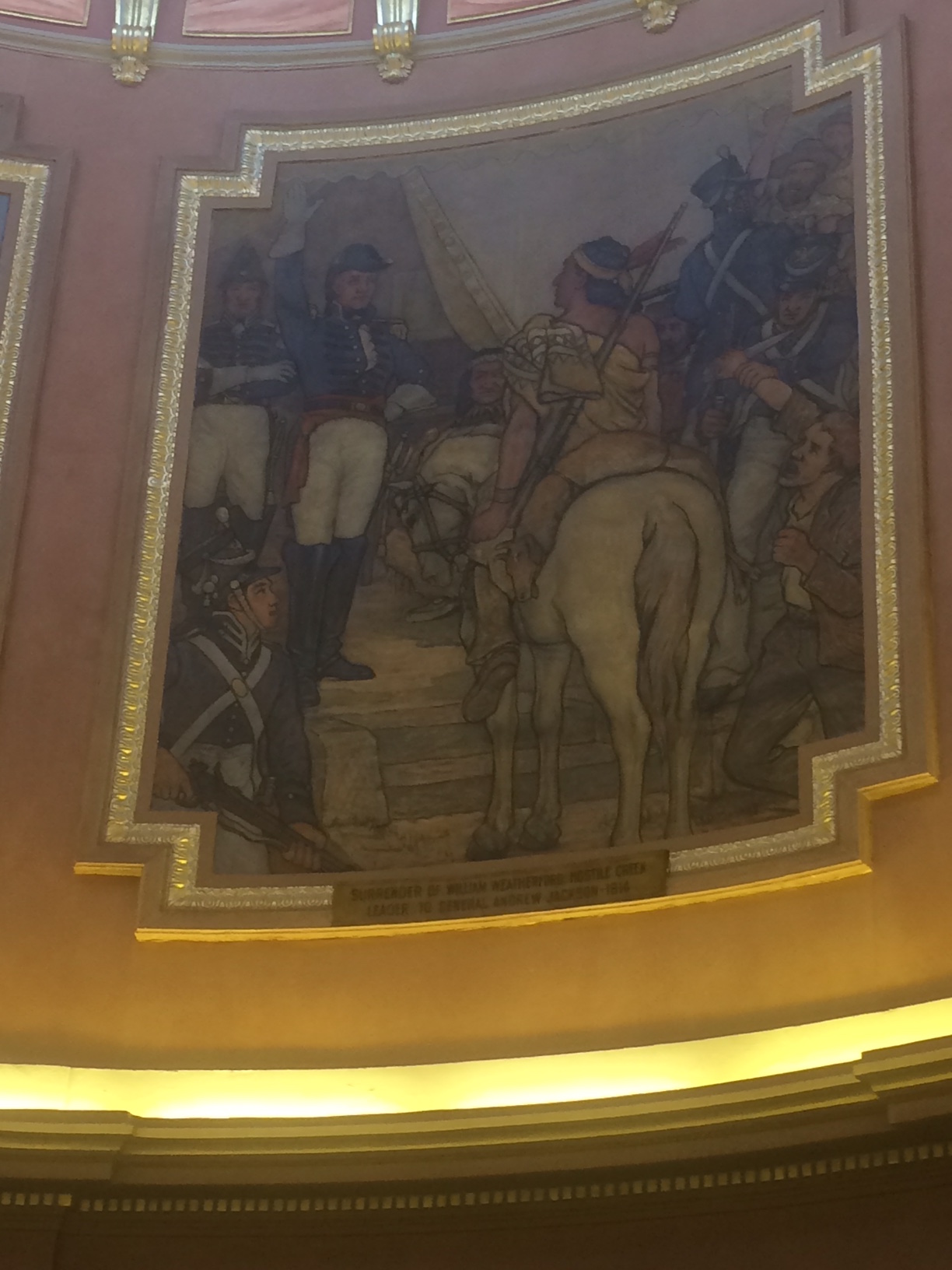 Southern Poverty Law Center

Some students headed to the Southern Poverty Law Center's Civil Rights Memorial and were reminded of the continuing civil rights struggle- against continuing racial hatred throughout our world, religious discrimination, and anti-LGBTQ discrimination. And at the end we could add our names to the Wall of Tolerance and commit to being foot soldiers in the continuing march against injustice and hatred.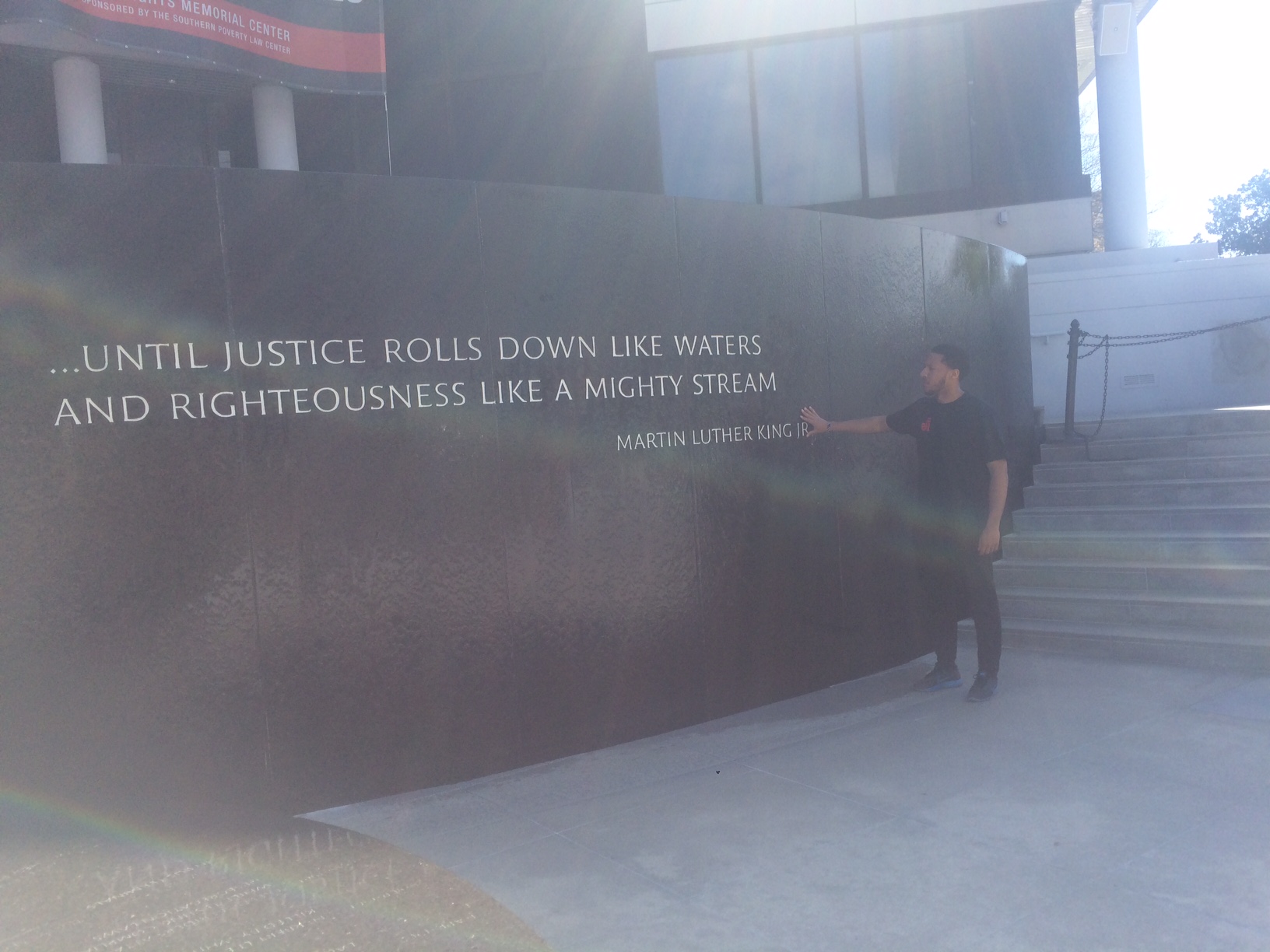 Bayard Rustin LGBTQ Community Center (and thrift store)
Some of our students needing a break from the heaviness of the trip took off to a thrift store and found themselves at an LGBTQ Community Center named after a Civil Rights leader who was asked to step down from public leadership because he was gay and they worried it would discredit the movement. And they met one of Jeanine Graetz's daughters who was the director. And they learned about a program the center has to show up and be family to others in whatever situations they need when one's family of origin doesn't support you or you don't have family at all. Being who the Church is called to be, but many times doesn't live up to.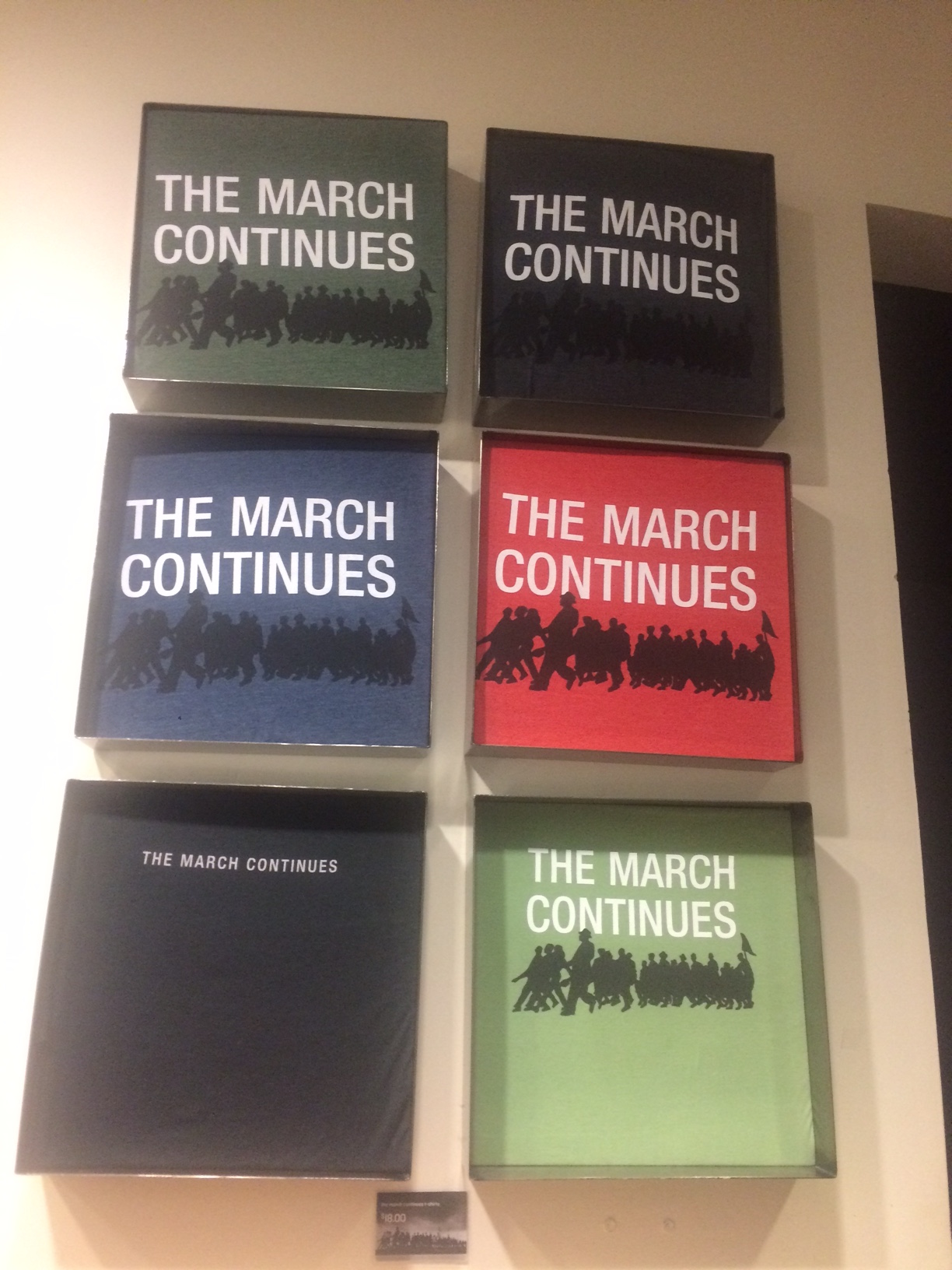 Fountain where slave auctions used to be held
Other students went to a beautiful fountain in the middle of downtown, which was also the former site of slave auctions. To stand in the place where ancestors were sold and to imagine the terror and disgrace they faced was overwhelming.  And to see it covered with a fountain was a strange experience, both making something beautiful on the site and perhaps trying to erase the pain experienced by our people in that place.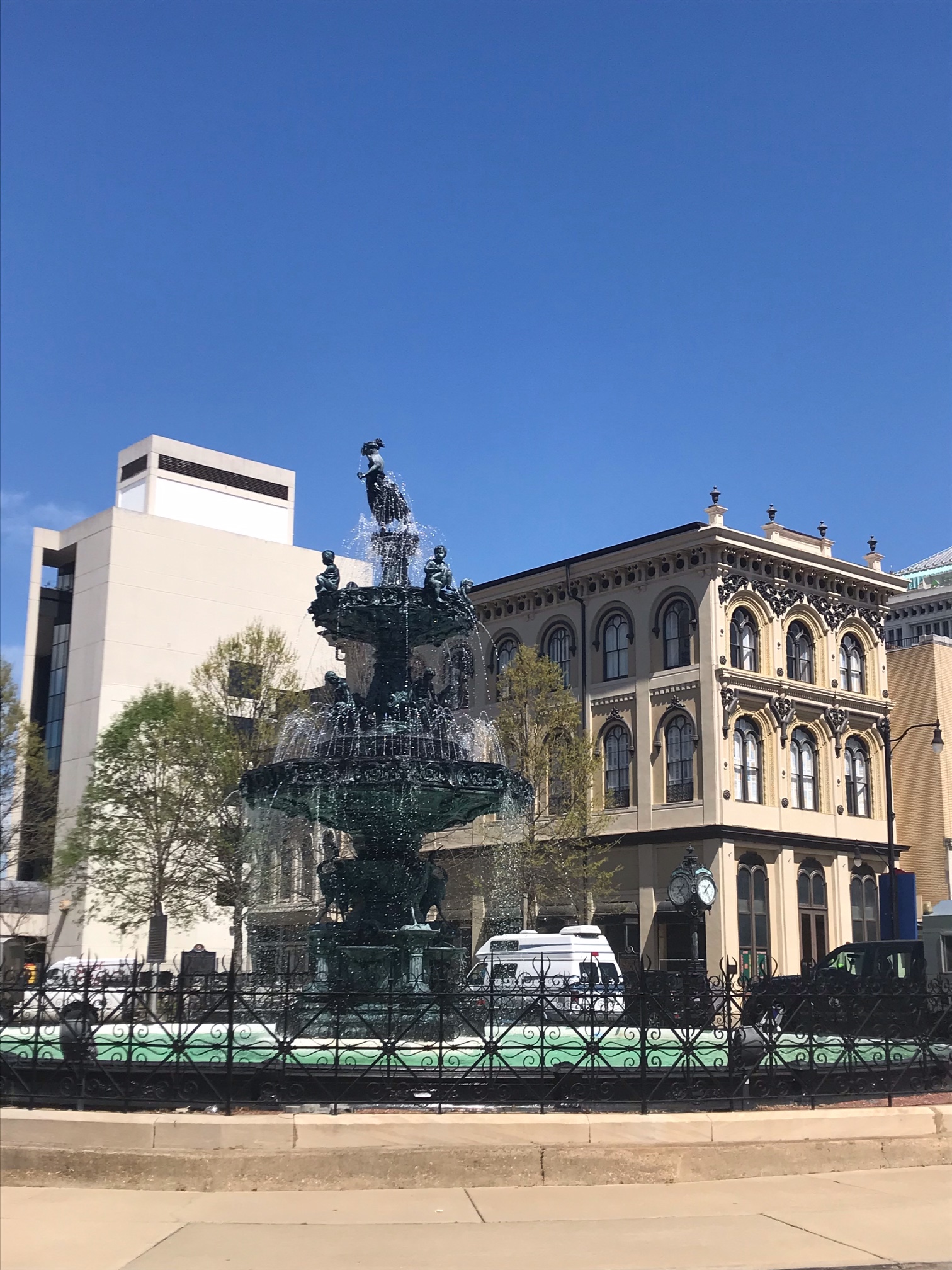 So many opportunities to think about who we are and who we, as a united community, might become if we take seriously the ministry of reconciliation that is entrusted to us. 

Tonight we drove to Atlanta and a made a new church our home for a few days. And we'll be ready for 2 more days of the trip!
The Legacy Museum: From Enslavement to Mass Incarceration
The Equal Justice Initiative's museum was overwhelming as it detailed the slave trade (by 1860,Montgomery was the capital of the domestic slave trade in Alabama) and how, after Emancipation, America continued to find new ways to oppress African-Americans.
After Reconstruction fell apart in 1877, Southern police often convicted African-Americans of small offenses (which usually only applied to non-white communities) and then leased them out to work in factories, mines and farms since 13th Amendment allowed for involuntary servitude for incarcerated persons. By 1898, 73% of Alabama state revenue was from convict leasing.
Although convict leasing was outlawed in 1928, African-Americans were still disproportionately imprisoned. And states added segregation laws, adding a whole extra set of reasons to lock up African-Americans, for offenses such as playing checkers with someone of another race. Then, with the War on Drugs, the numbers of those incarcerated increased dramatically. Very vivid accounts of prison life in the museum underscored the terror and hopelessness of being locked up and the dehumanizing treatment of our fellow citizens.
As we grieved over the reality of what was done to our African-American siblings, some of us also struggled with the words of those who shared our white skin. We heard white men who justified slavery as God's intention. Pastors who quoted from our holy scriptures as a tool of oppression and violence.  And senators who defended segregation as a way to protect their "habits, traditions and way of life," as if their way of life was more important than the freedom of their brothers and sisters.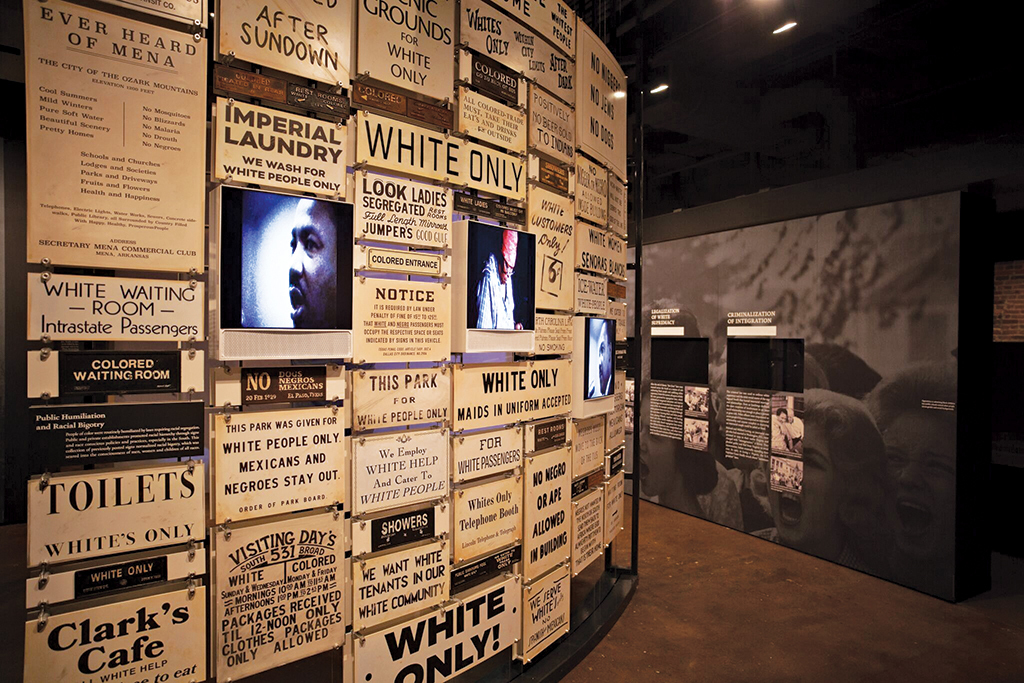 As the museum detailed the reality of lynching as a public spectacle, they lifted up the reality that has shaken me especially this trip- that this system of dehumanization and oppression and violence has psychologically damaged the white persons who take part in it. It has taught us misplaced fear. It has enshrined a way of life created by oppressing others. It has made us think that our skin color, rather than our character and our treatment of others, is something that entitles us. And it has taught us that all of this is normal.  And we can't just shake it off since it's in the air we breathe.  
An African-American woman outside the museum asked one of our white participants, "Why does someone who looks like you come here?"  The answer for me is that this is my history.  This is what has formed me whether I wanted it or not.  And if we're going to begin to repair what is, to change how we live into the future- we first have to look square at our history and what was done in our name.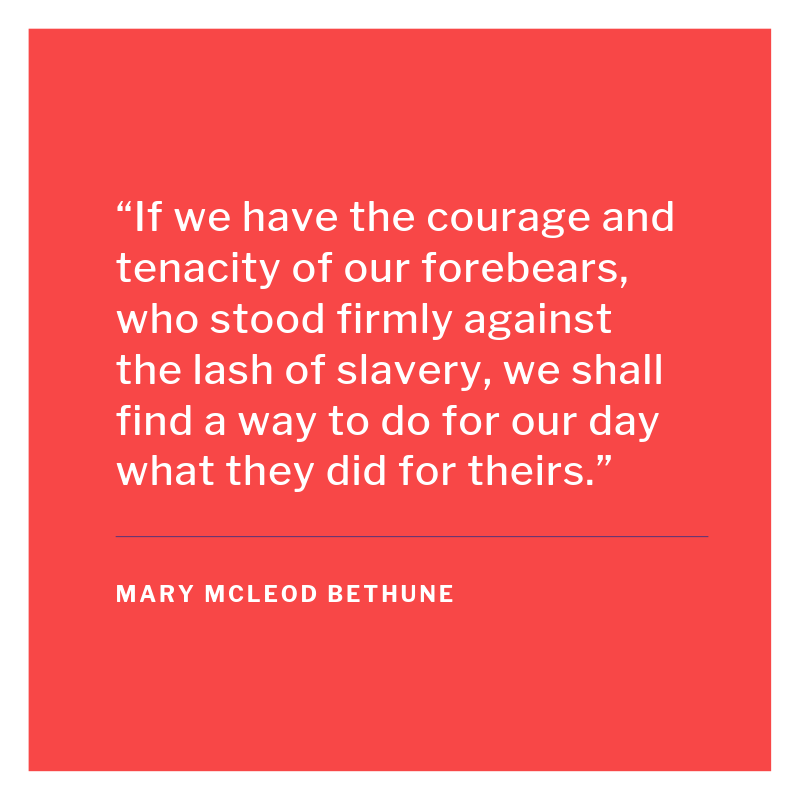 After the pain of facing our shared past, there was a small room in the museum, bathed in light, with the faces of those who have defied the dominant story and worked to write a new one. It was solace and hope. It was the place where everyone could take a breath.  And it felt somehow safe (even thought life for any of those surrounding us never was).  Because in that place we were surrounded by a great cloud of witnesses and that the evil of the world that we had just witnessed was not all there is.
And after that respite, we walked through the last hallway, which asked us the hard questions of "what now?" What should we do as foot soldiers in the movement toward justice and reconciliation? As people who care about inhumane treatment in jails and death sentences for juveniles? What are we, as Christian people, called to do to repent of our churches' participation in and encouragement of racial injustice? What can we do now to change what will be?
The National Memorial for Peace and Justice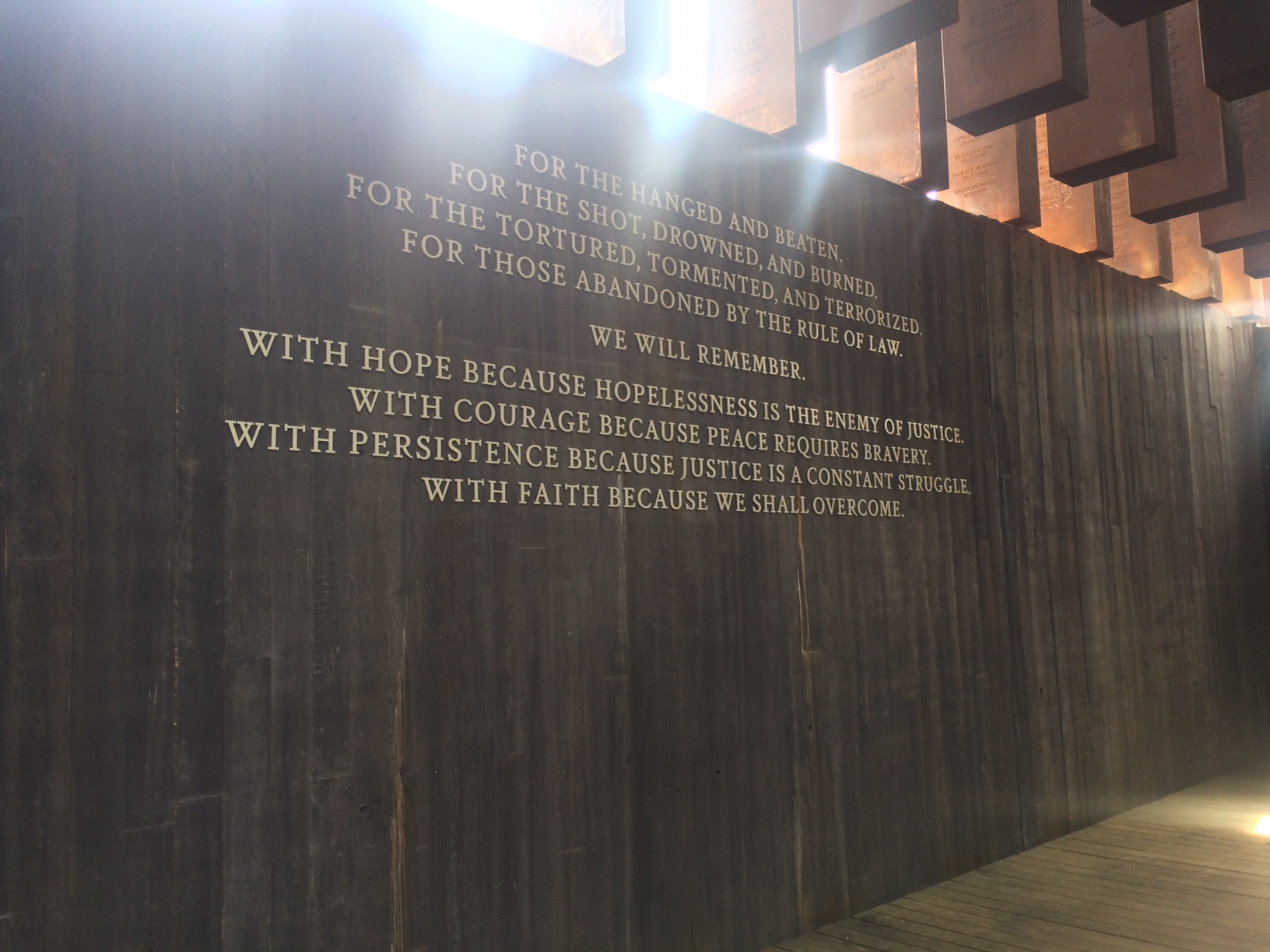 There aren't words to describe the walk through the hanging iron blocks symbolizing the vicious murder of African-Americans- the 4000 people lynched between 1880 and 1940. Brothers and sisters killed so that another person could somehow feel more superior or powerful. Or because those in power were trying to defend their way of life that was built on oppression. It was horrifying to see our national disgrace hanging in front of us. A disgrace that was as close as our backyard, as we read the names of those from Baltimore and Anne Arundel counties in Maryland.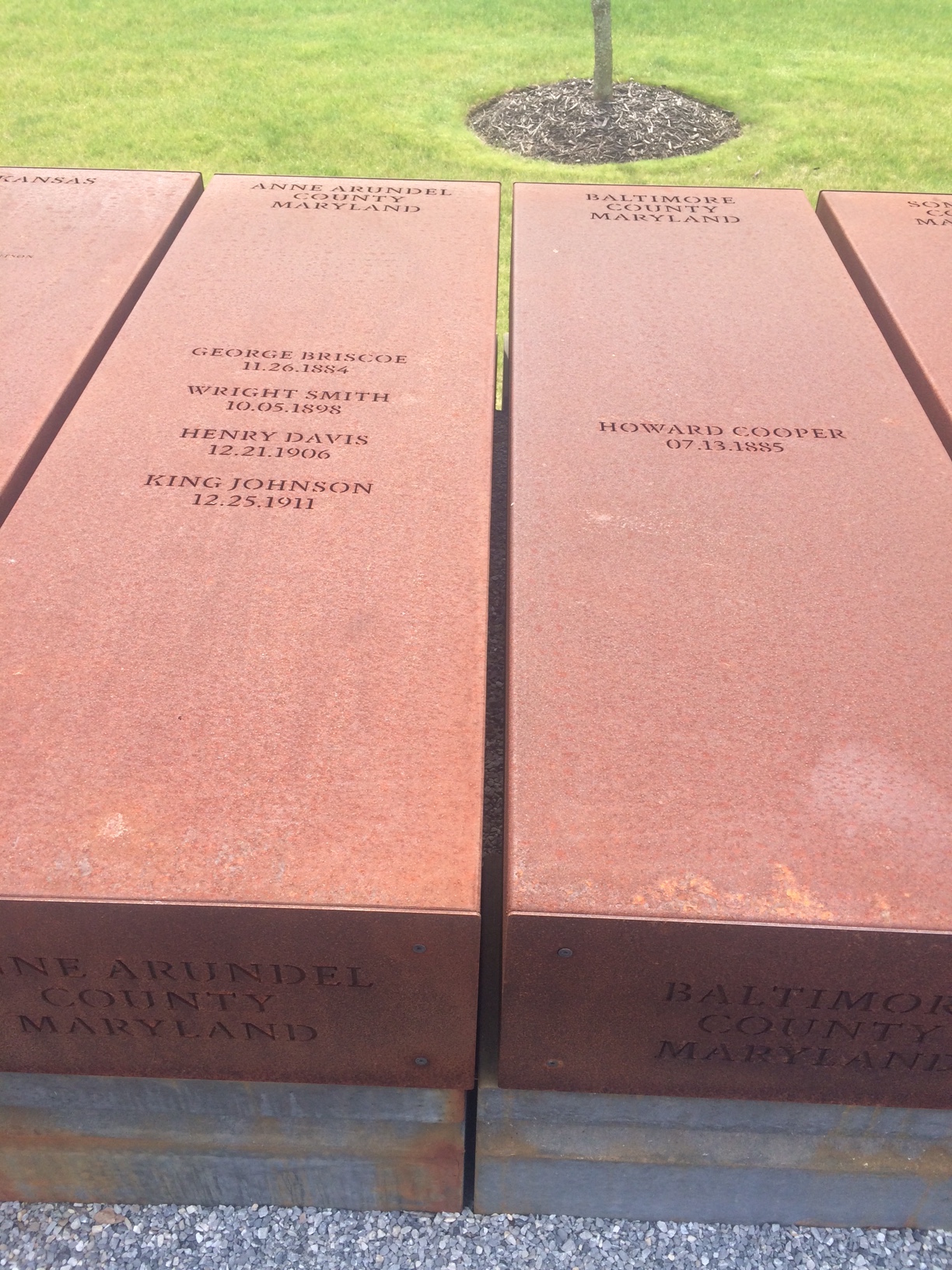 And it was pwoerful to see the Ida Wells forest- a statue of trees cut down, never allowed to grow.  To know that this is part of the legacy of our American story.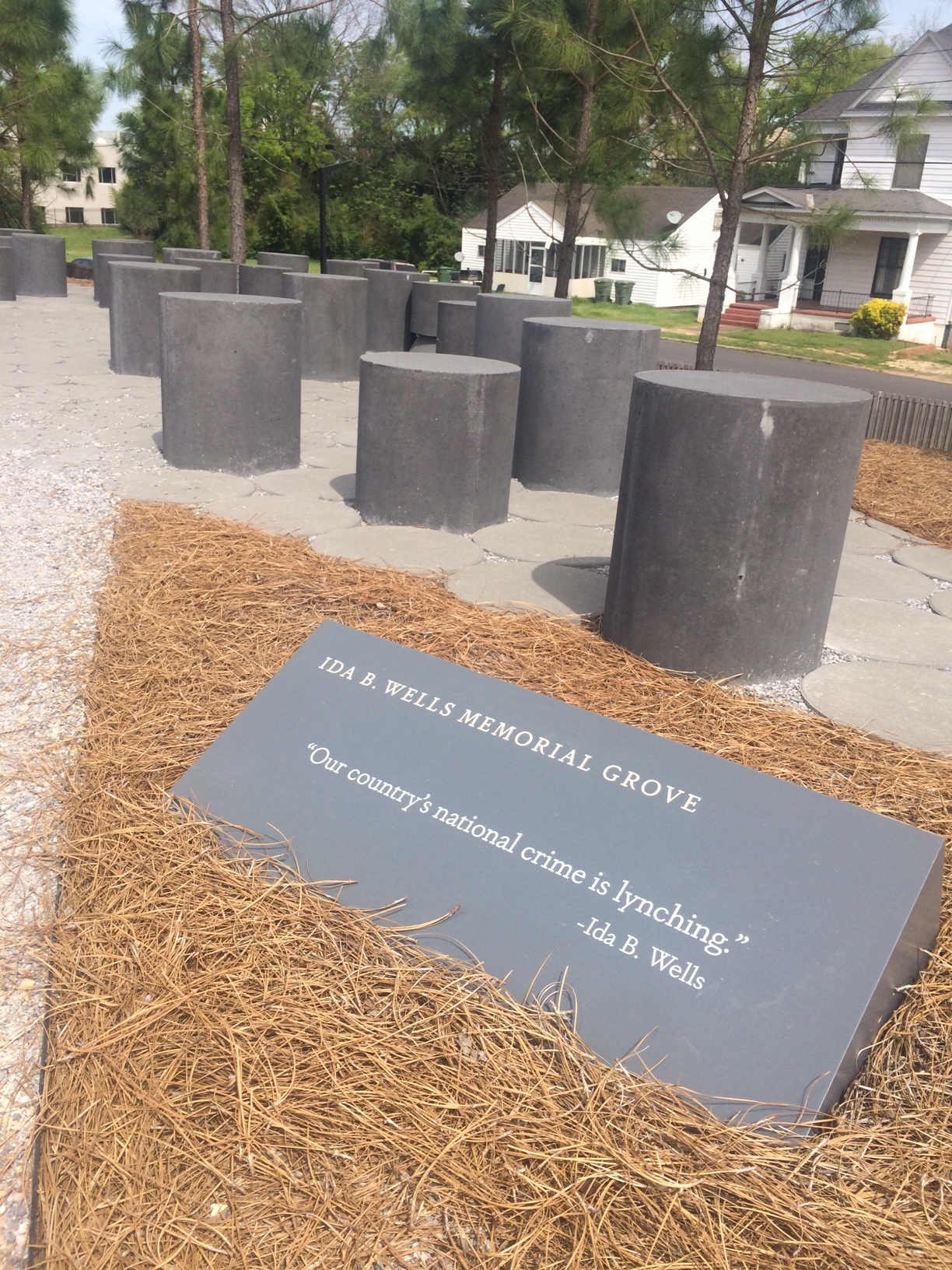 And it felt like holy ground to have our brothers and sisters named and remembered.  To have them receive the honor taken from them. 

Montgomery Education Foundation
As we were emotionally exhausted and wondering where we go from here, Ms. Ruva Chimedza, Community Programs Coordinator for the Montgomery Education Foundation joined us back at the church.  She helped us understand the public school system in Montgomery, which has the worst performing schools in a state ranked 47th in the nation for education and has recently come under state control in order to help keep their accreditation.   She helped us understand magnet schools, charter schools, and traditional public schools and the tiered system of educational outcomes from them. 
And then came the question, "How do we do better for ALL our children" rather than only looking out for our own? One option in Montgomery is a "conversion charter" where a group will take over a traditional school but allow all the same students to be there. It's a way of radically reforming what is possible in one place without displacing students most in need of those interventions.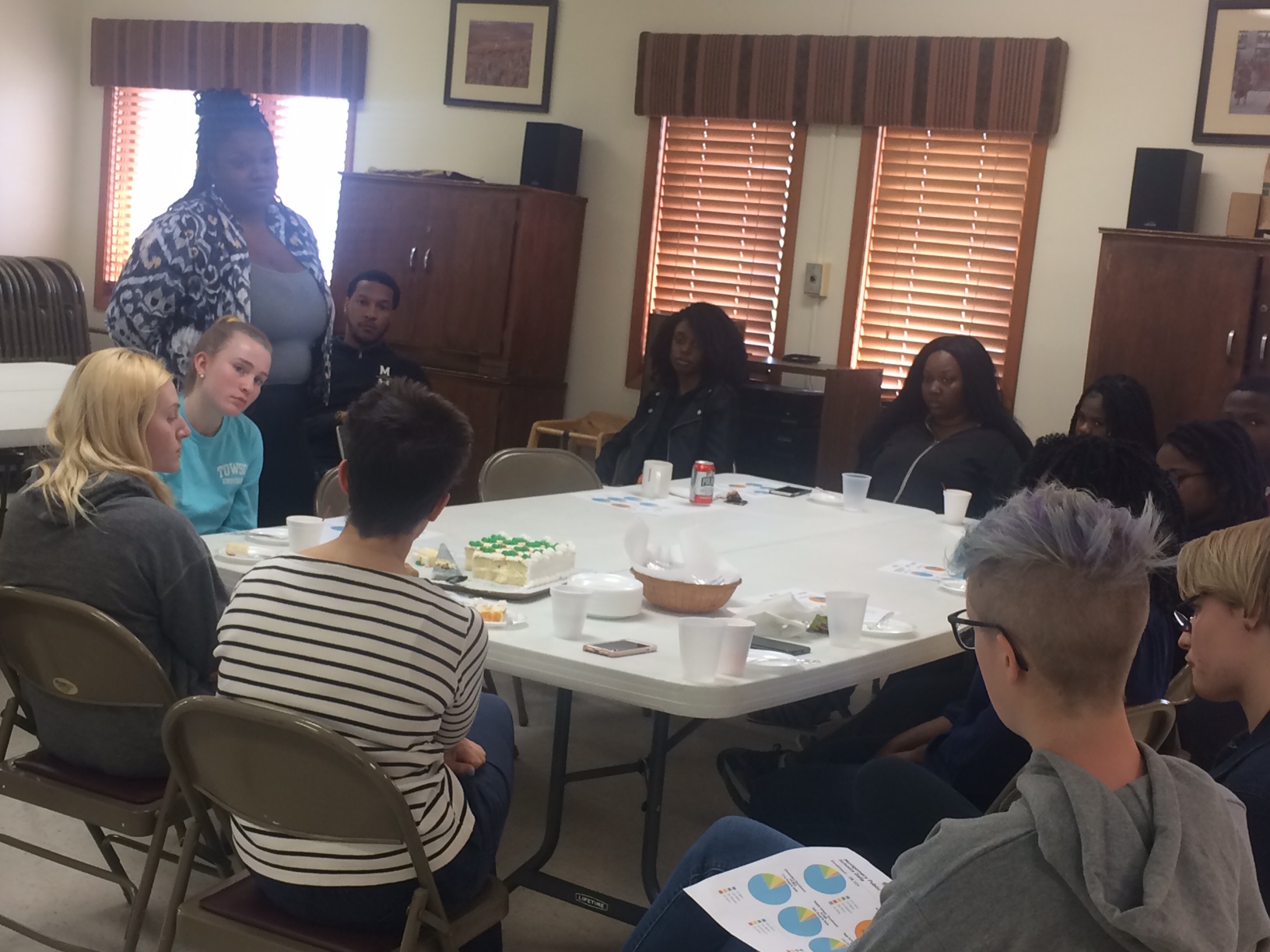 And she also told us about a hopeful program called "Network Nights" where anyone interested in public education- students, parents, community leaders- can come out, talk in small groups about whatever issues they feel need to be discussed. And each night ends with a "Match and Act" where people can bring up the needs they have and find someone else in the room who can meet that need. It doesn't take much set up- just giving people a venue and a way to solve some of their own problems. And all it takes is people- students, parents and community members- who have hope that something can change and a desire to be an active part of that movement.
Pastor Tiffany Chaney from Gathered by Grace
Pastor Chaney, whose congregation works with Montgomery Education Foundation to support their efforts, is a mission developer (meaning a church planter) who developed Gathered by Grace especially for folks 18-40-ish who need a safe and welcome place to hear the powerful word of grace.  They are doing church a new way with on-ling Bible studies and conversations about real-life topis and what the gospel has to say about them.  It's doing what church has always done- speak grace and empower God's people to follow Jesus' way- in a way that makes sense to the community that gathers.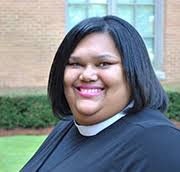 And part of that means doing what they can in the communtiy.  Pastor Chaney said, "I believe that the kingdom of Jesus is real."   That when God gets to working, mighty things like happened in the book of Acts (especially chapter 4) might start happening again- like people sharing their goods and transforming their lives.
Her congregation has a "Life Happens" fund to support others in need of a little help- giving food help to those in rural areas who can't access food pantries or helping pay funeral expenses for a daughter. And even though they're far from the largest congregation in Montgomery, they worked to get books into public schools and serve in a support role to the Montgomery Youth Forum. Because the health and well-being of all people matter. And because this is what the church does when it trusts that the kingdom of Jesus is real and breaking in.
This is a story worth defending and living out. The one about grace.  The one about sharing what we have so everyone has what they need.  The one where community members come together to solve problems together and support young people.  This is the gospel heritage to hold onto, the story we get to live into. 

What a joy to start the day in worship with our brothers and sisters in Christ at 16th St. Baptist Church in Birmingham!  This historic church was the site of mass meetings during the Civil Rights movement. It was the staging area and starting point for the Children's Crusade which turned the tide of sentiment against Birmingham's policies. And it was the site of a bombing during Sunday school in 1963 which claimed the lives of 4 girls.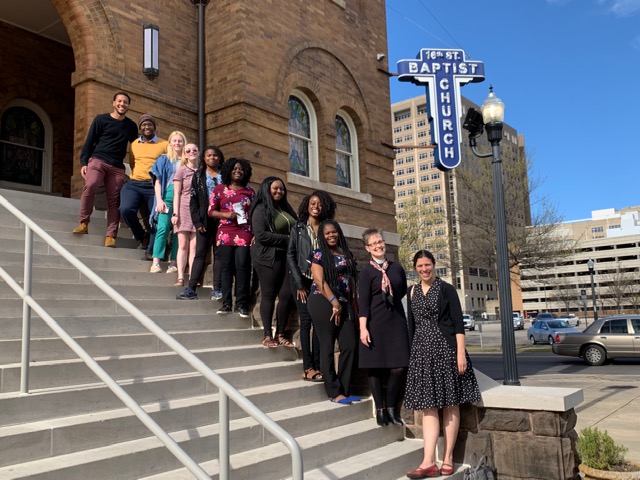 But this morning we didn't go there for the history. We went there to be God's people today and hear a word from God for us.
The hospitality was warm and welcoming (a church member brought chips and brownies to our van after worship!) and the music was hopeful and powerful. And then Rev. Price gave a powerful sermon about the devil tempting Jesus to prove God's power by jumping off the roof of the temple and making God catch him with a spectacular display.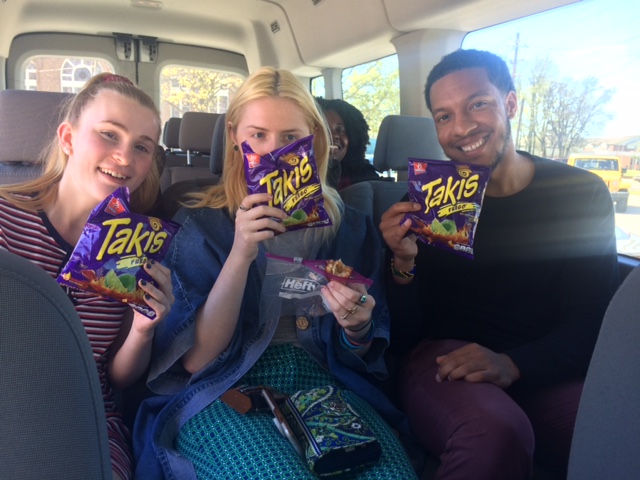 Rev. Price said, "If you need proof of God's presence with you, then all you need to do is press PAUSE and then rewind your life." So that we can notice all that God has done for us. So that we can realize how God preserved us this far. So that we can see that God has been with us in the past and surely is with us now. And soon after he finished preaching, we all held hands to sing, "There's a sweet, sweet Spirit in this place. And I know it is the Spirit of the Lord." Because God had brought us all through and to the place where we were standing. God's presence had been with us all.
And that's a little of what the afternoon for us was at the Birmingham Civil Rights Institute. A time to pause our regular lives and look back at those who walked the road before us and made a way for us.
Our students walked from rooms depicting the segregated south right through to the present day. And learned for the for the first time about the Children's Crusade, where children were strategically used (something they were eager for!) to press for desegregation of public spaces and local businesses. UMBC's President Hrabowski often talks about what it was like to ignore his parents and take part in the march for justice. To be a part of something larger than himself, something that mattered.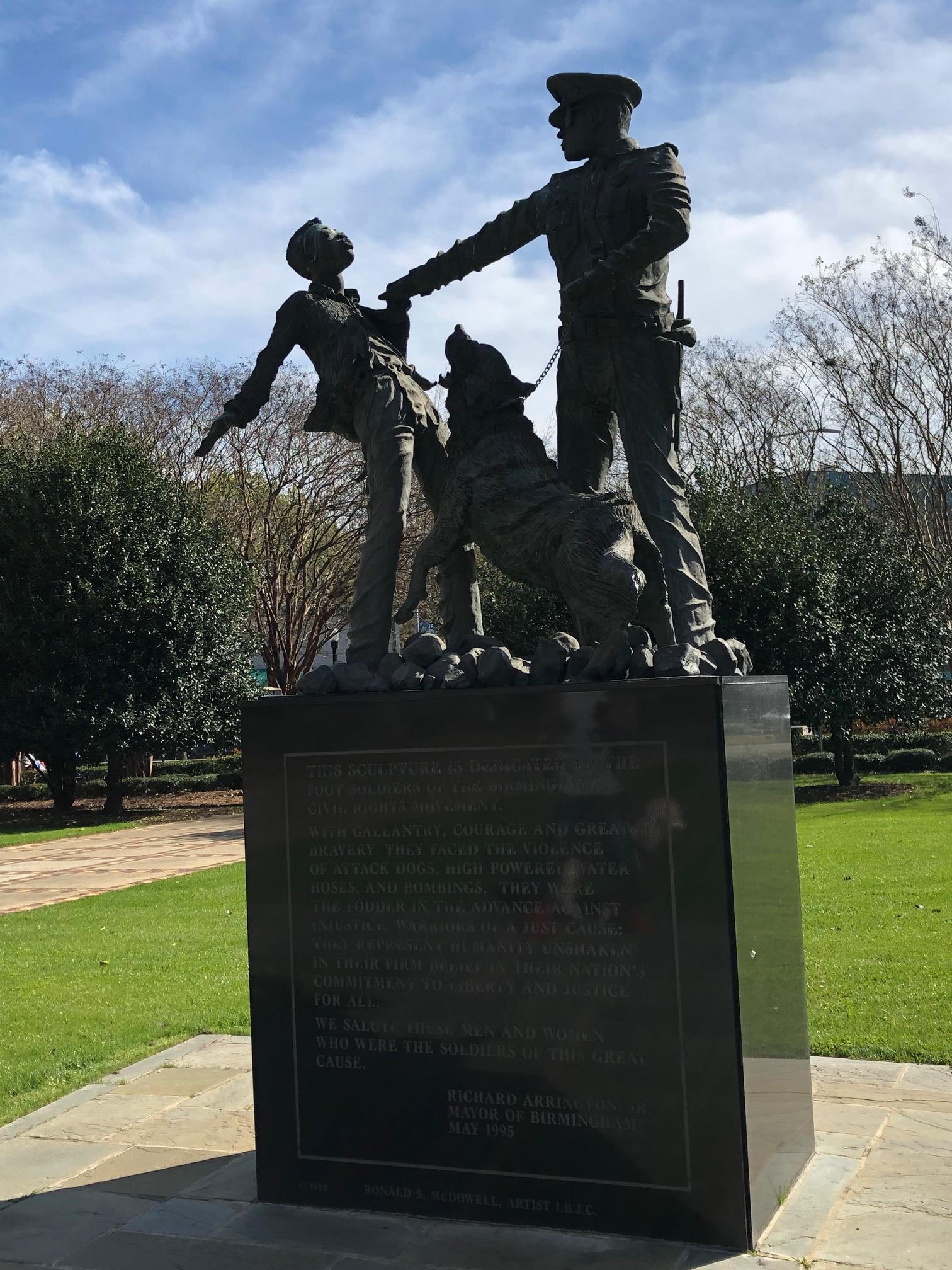 Evil caused police to use fire hoses- strong enough to pull bark off trees- against students in the Children's Crusade. Evil got Birmingham nicknamed, "Bombingham" after the nearly 50 unsolved, racially motivated bombings in the 50s and 60s, including at 16th St. Baptist. Evil made the government threaten to cut off food assistance to those in Mississippi if protests didn't stop- using every evil they had to wield to hold on to power.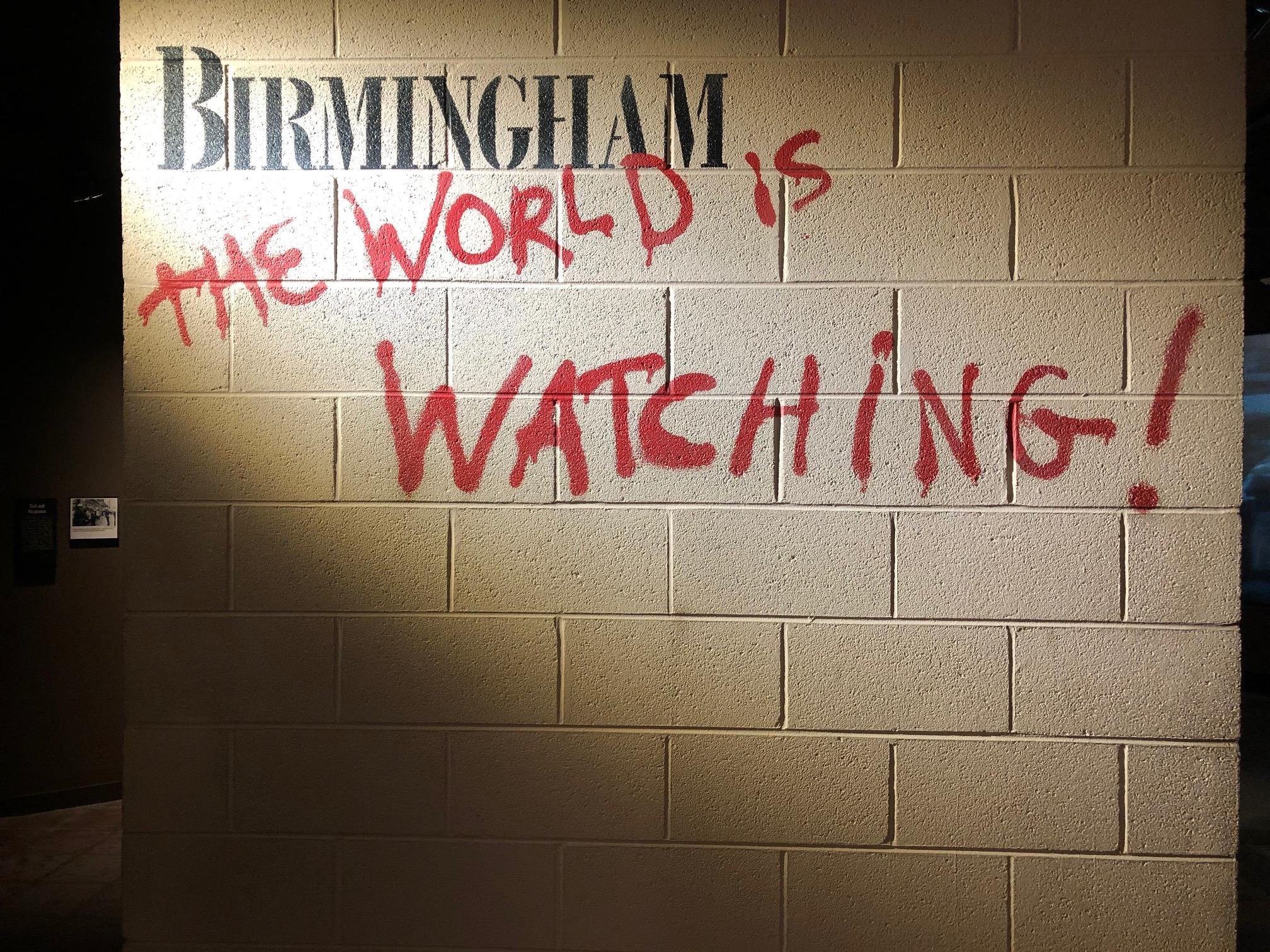 But God brought our ancestors through by embarrassing the evil intentions of those in power. Photographers documented the violence at the Children's Crusade and it caused outrage which forced Birmingham to integrate. When Alabama banned the NAACP in 1956, so within a week, Rev, Fred Shuttlesworth founded the Alabama Christian Movement for Human Rights to engage in the same work.  College students encouraged boycots of segregated businesses which reduced sales by close to 15% at the busy Easter season and moved integration closer.  And those churches that were bombed repaired their walls and went right back to worshipping God and fighting for justice. God found a way to bring our ancestors through and God will keep doing it.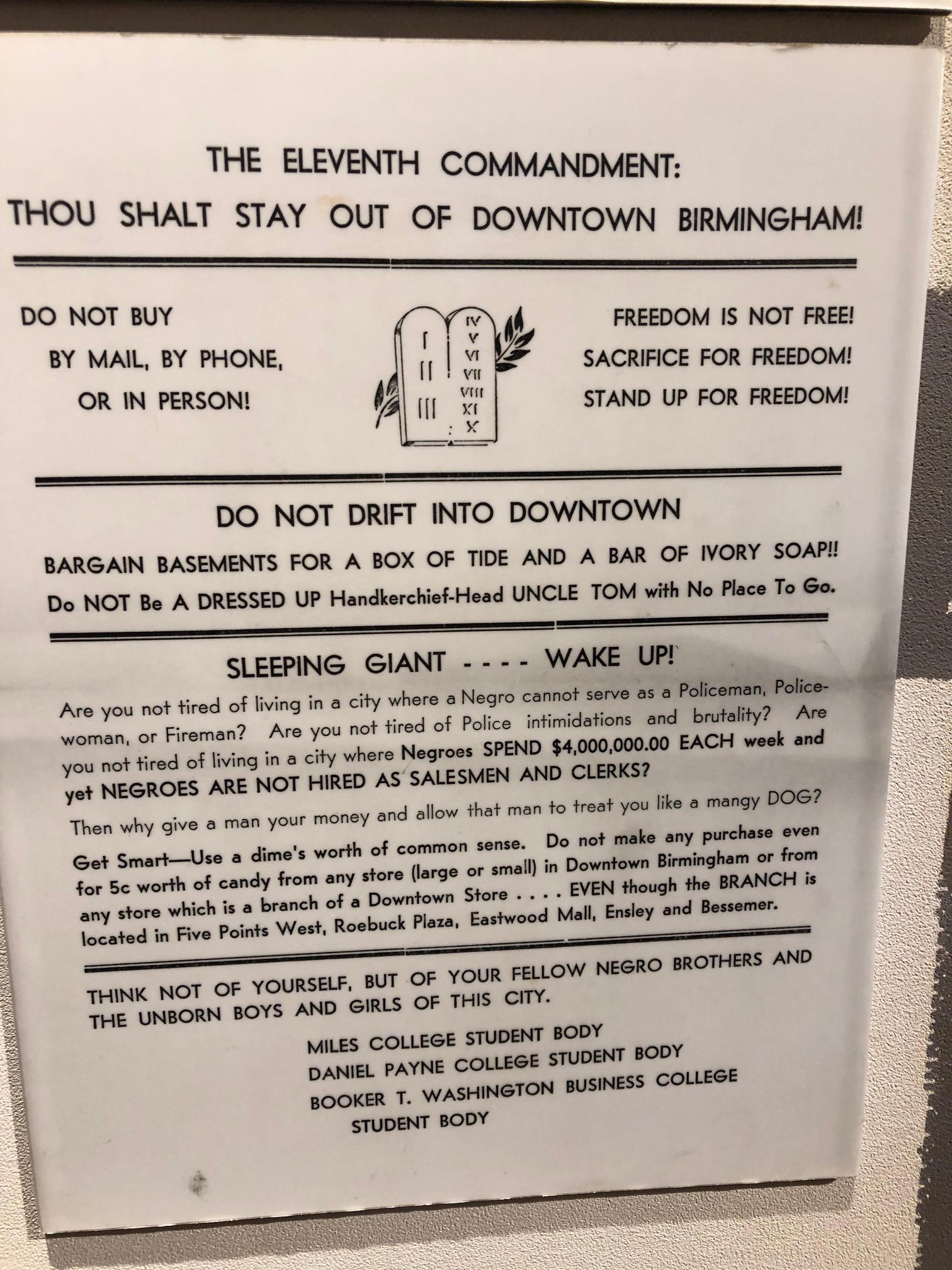 On a side note, after seeing so many hateful words in the Civil Rights museum written and spoken by people who share my skin color, I cringed when I saw a pamphlet from the "Concerned White Citizens of Alabama" that called people to "Stand up for Alabama." But I got to rejoice when I saw that this was a group fighting AGAINST segregation and reminding their fellow white citizens that "Silence is no longer golden."  It was a messge underscored by our breif visit to the Birmingham jail (just the outside!) where Dr. King penned his famous letter to white clergy who counseled him to wait for justice in the courts rather than demand it through direct action.  The letter where Dr. King reminded them that silence from the powerful is violence to the opressed.  "Silence is no longer golden."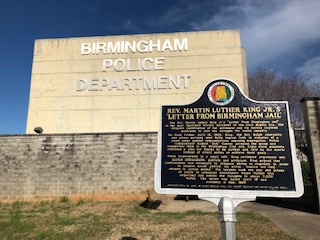 Back to the church
We returned to Messiah Lutheran to the spectacular hospitality of the congregation who cooked dinner for us. And we had a chance to chat with Doris, a member of Messiah who lived in Selma in 1965 and went to the mass meetings and was there for one of the marches. She said that in those meetings there was a sense of hope, that things were finally going to change. Over 50 years since the Voting Rights Act was passed, its harder to feel that same hope that entrenched problems are going to get any better.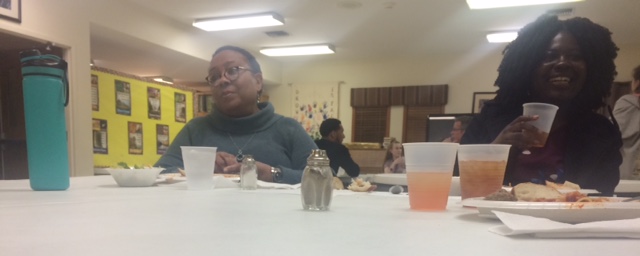 Tonight our students were feeling a mix of emotions- pained by all that has been and deeply grateful and humbled by the courage of those who defied unjust systems. And frustrated that it's taken until now for them to learn their history, since these stories aren't taught well in our schools. They felt they only got the cleaned- up versions.
Tomorrow we head to the new Legacy Museum: From Enslavement to Mass Incarceration to continue to hear the ugliness of our history so that we might learn to never go back.

We are extremely grateful for the hospitality of St. Dominic Catholic Church in Kingsport, TN where we slept last night and for Aunt Ruth (aunt of Pastor Ray Ranker of the Lutheran ministry at the University of Maryland) who let us in at 12:30 at night!
After 14 hours of driving over 2 days we are so happy to finally be in Alabama! We began our Civil Rights trip in Selma today. What happened at Selma is actually at the end of the Civil Rights era, but we needed to fit things in as they were open. So we'll be walking backwards in history this week.  

Lowndes County Interpretive Center (National Park Service)
Our first stop told the story of Lowndes County, which was a center point of the Voting Rights March from Selma to Montgomery. In 1965, it was the poorest county in the nation. 80% of the population was black but they only owned 10% of the land. Many were sharecroppers and scared of losing what little they had and weren't ready to join the fight for voting rights.
But organizers recognized the need to use this area- notorious for voting rights abuses- to wage this battle. For many of our students, this was their first time learning about Bloody Sunday and how the peaceful marchers were stopped and beaten by police. This was the first time hearing our American stories of the evil done and the bravery of those who refused to let the way things are be the way things would be.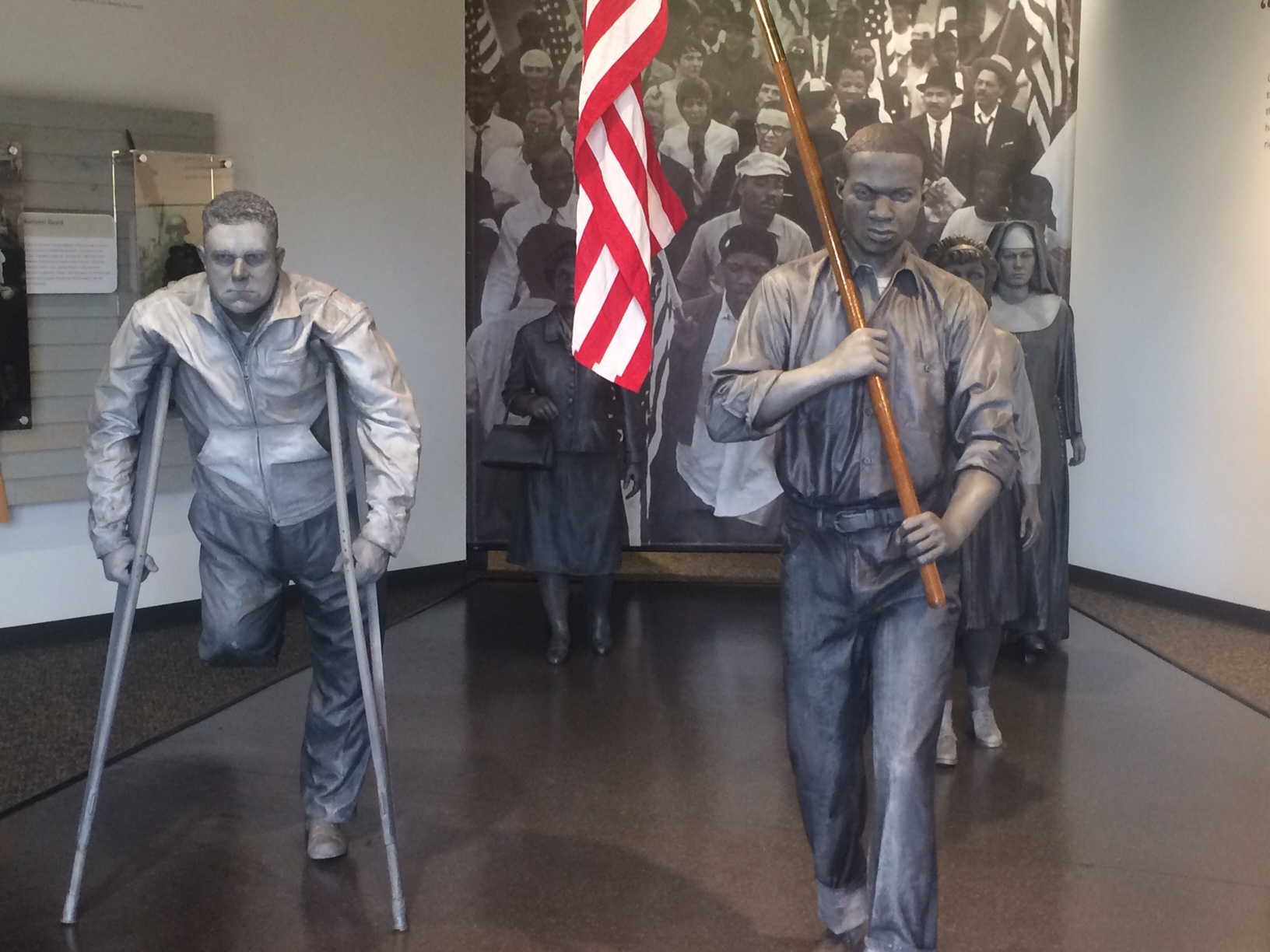 Our students were shaken by seeing the police's riot gear and the cattle prods used against human beings. They were haunted by hearing that the beating didn't stop when they left the bridge, but the violent police officers followed them back to their homes and churches. The news coverage of this event spurred a nation to action- including the Ministers' March 3 das later and the final march to Montgomery 2 weeks later. And the Voting Rights Act of 1965 was signed soon after.
But as one of our folks said, "feelings don't go away because they pass a law. They just come out another way." And this hatred and discrimination just needed to find another way to come out. So as residents of Lowndes County began to legally register to vote, they found themselves evicted from their homes (because if you didn't have a home address, you couldn't register.) And the original organizers raised money to buy land and build Tent Cities to shelter the brave folk who registered to vote, eventually building homes from them. I love it when life keeps fighting back like dandelions growing up in the sidewalk cracks!
Walking across the Edmund Pettus Bridge to Selma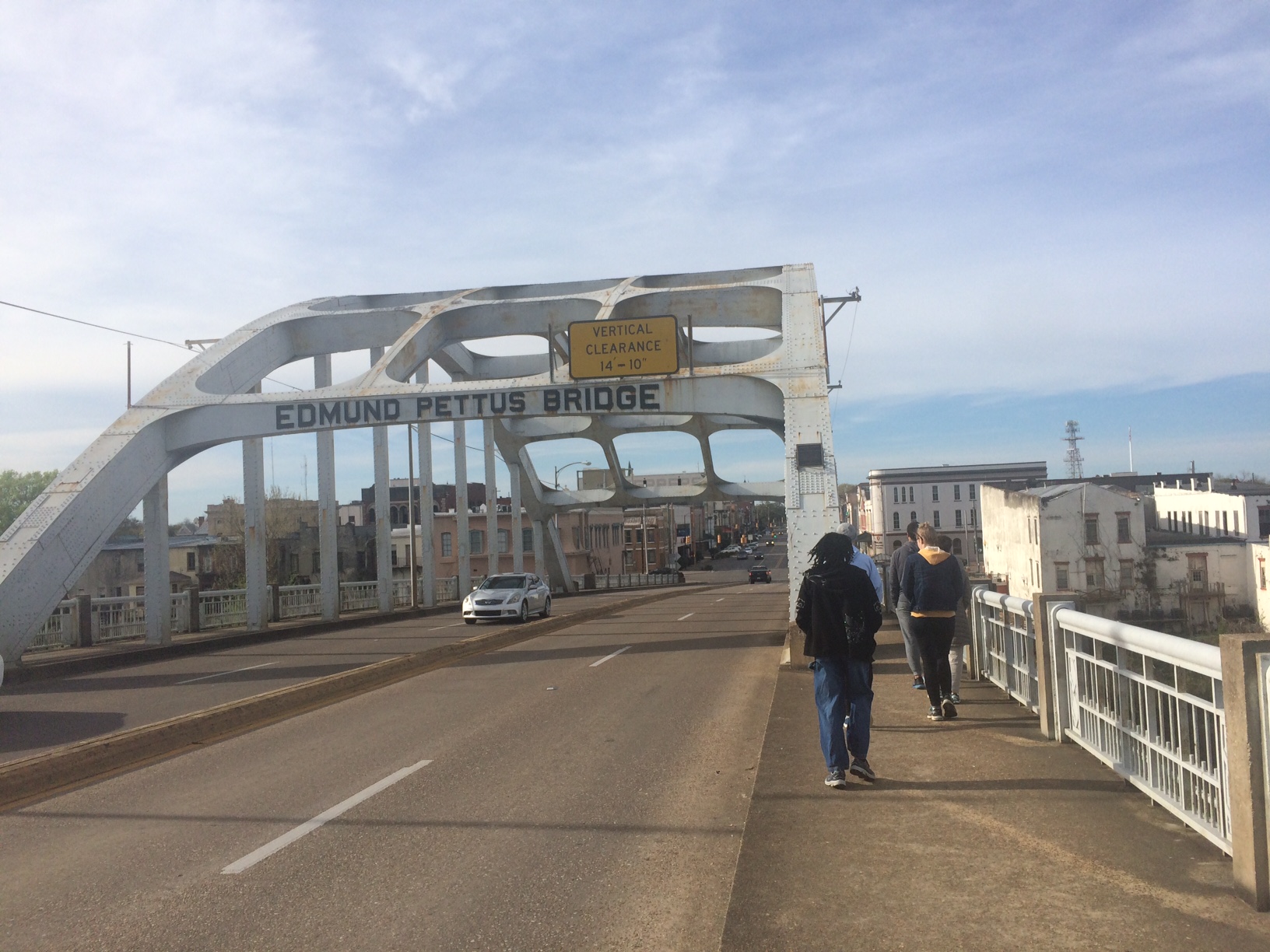 Our next stop was to walk across that holy bridge. There's something about being in the place where history happened that matters. To walk those same steps. But then you reach the town of Selma, where people are going about living their lives. And our students struggled as they passed building after building that was empty or boarded up. Streets were nearly deserted. And the hope that they felt after knowing what happened there turned to disillusionment and frustration for what is- a place without a lot of economic opportunity for the residents. It was like walking off a movie set and back into the real world where things are complicated and don't work out how we think they should.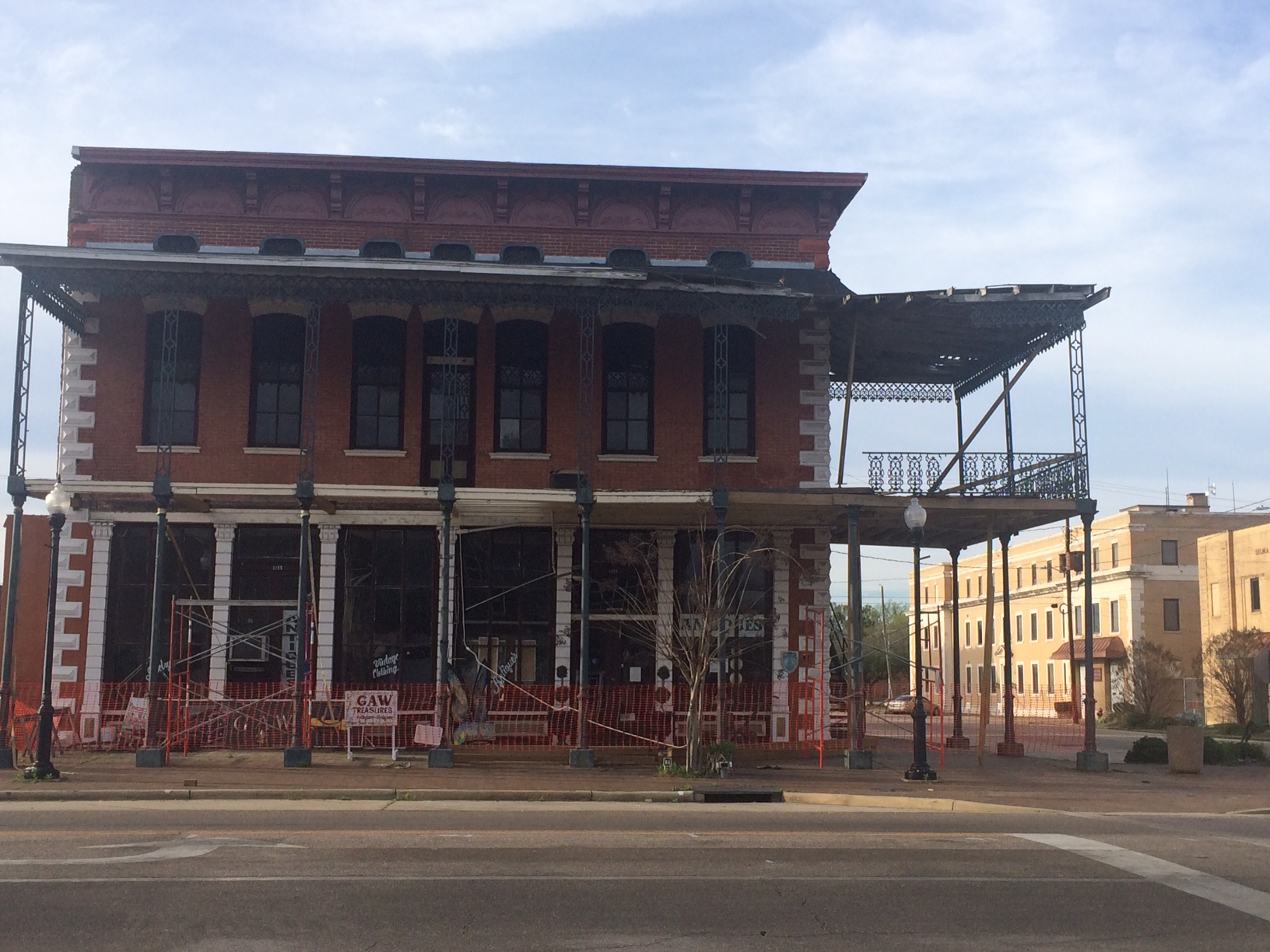 Gaining some measure of justice doesn't always mean that life is transformed. And the question becomes, "why?" And "how can it be different?" And "where do we go from here?"
Brown Chapel AME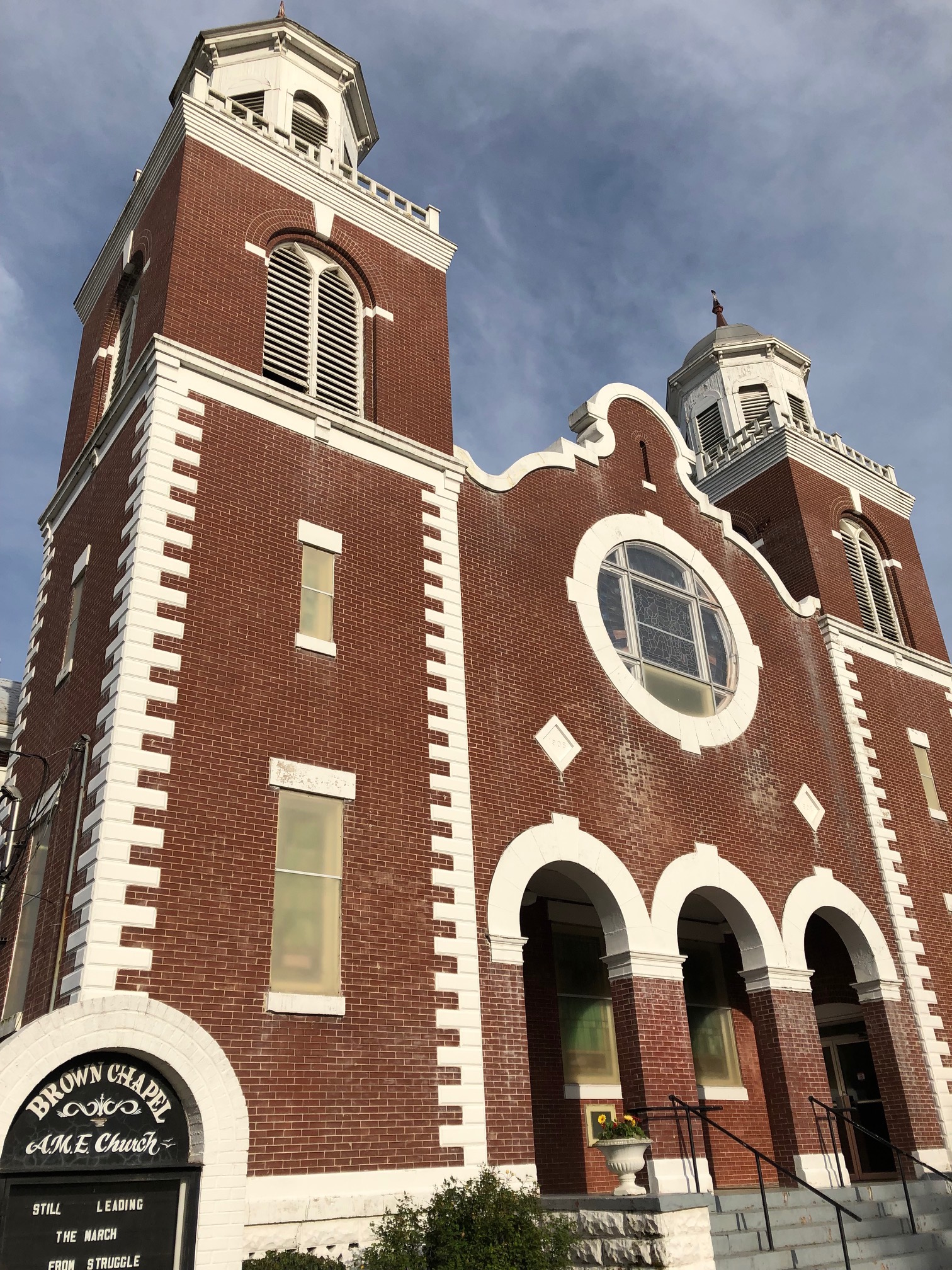 We kept walking through town to Brown Chapel (AME). At a time (1965) when Gov. Wallace made it illegal for African-Americans to hold mass meetings in churches, Brown Chapel risked ignoring that order and becoming a place to organize and the beginning point for the marches in Selma (all 3 of them, including the one that eventually made it to Montgomery.) Our students distinctly felt that we were standing on holy ground, ground that had been a safe space for so many who were a part of the fight for justice.
And there's holy ground next to the church, too- George Washington Carver Homes, a public housing complex whose residents were crucial to the Civil Rights struggle. They housed and fed organizers and supporters and joined in the marches themselves. The monument next to the Homes celebrated the freedom fighters and included high schoolers, college students, hospital workers, and teachers. So many regular people who were called into a movement that was bigger than themselves. And who risked their safety for it.
Tonight we talked about how the Voting Rights Act was allowed to expire and the danger that still exists from disenfranchisement of voters, particularly voters of color and those living in poverty. And we- all us regular people- need to keep reminding our government of the necessity of making sure all our citizens can vote. There may be a moment- and it may be soon- where all us regular folks are called to be a part of that continuing movement toward justice so that the situations of our brothers and sisters will change. We'll keep on walking and keeping our eyes and hearts open in the days ahead.
Now we're settled into Messiah Lutheran in Montgomery and are grateful for the warm welcome, the fresh cookies and lemonade and the carpeted floors and padded pews, which make sleeping so much more easier! Off to Birmingham early tomorrow!
Zephaniah 1: 7,12-18

Bring the kids to church, that's a good place for them.  That's what we usually think.  And yet, the words we hear today are pretty scary.  The prophet Zephaniah has come to pronounce God's judgment to his people.  And he's not mincing words.  He's painting a picture that we'd rather not look at and that we probably wouldn't want kids to be watching on TV. He's talking about a day when there will be violence and pain. All because of God's anger.  
Hear the prophet- "On judgment Day, I'll search through every closet and alley. I'll find and punish those who are sitting it out, amusing themselves and taking it easy, who think, 'God doesn't do anything, good or bad.  God isn't involved, so neither are we.  But just wait.  They'll lose everything they have, money and house and land. On Judgment Day my anger will be paid out: I'll make things so bad they won't know what hit them."
These words are in our Bibles!  In the Lutheran tradition, we don't usually talk about the end times or judgment all that much.  We tend to focus on the good stuff- God's love and on God's promise of new life through Jesus.  And we focus on that so much that sometimes we don't quite know what to do with predictions of doom and judgment.  We wonder how our God can be a God of judgment and a God of forgiveness at the same time.
So it's tempting to write these end time words as old words- words spoken in another time to another people that don't have much to do with us anymore. But every year, the Church chooses to have us hear these lessons again so that we can not ignore them, so we cannot forget them.  Because the truth is, the God who sent Zephaniah to speak these words is the same God who sent Jesus to speak words of hope to us.  So, as much as we may not want them to be, these words of destruction are a part of our story, too. 
They are words spoken by the prophet Zephaniah to a people who were getting too comfortable. They had a pretty good life and didn't think all that much would change.  They thought that life would pretty much go on like it always had.  They were busy going to work and taking care of their homes and they were feeling pretty much in control.  They knew that they were the ones running their own lives and no one else.
And they got comfortable like that- living as if God wasn't really at work in the world. They assumed that God wouldn't go any good or any evil and that meant that were in charge.  Now, it's not that they weren't religious.  They still prayed when they were in terrified and worshipped because it had become part of their habit.  But when it really got down to it, they lived their lives assuming that God was mostly just a figurehead.  You know, a nice tradition, but not something they need to take all that seriously.
It's a world that looks pretty familiar.  Zephaniah was speaking to a world that looks a lot like ours. A place where many people don't believe that God is still at work in the world.   Where people may pay God some lip service, but live as if they are the ones who are really in control. And more often than we would like to admit, it's not just those other people out there who act like that.  Too often we don't act any different.  Too often we are people who believe that God is too loving to ever be angry.  Too often we are people that act like God is our buddy rather than the one who can turn our world upside down. And that is why these words are still a part of our story. Because we still need Zephaniah to speak the words of God to remind us that living like that is dangerous.   
We know full well how we act when we think the person in charge can't do anything to us, when we feel like we can't get in much trouble no matter what we do.  We take advantage of it.   Students don't act as good or work as hard with the substitute teacher because they know she doesn't have the same power to affect their grade.   Workers tend to work a little less when the boss isn't around because they know they can't get in as much trouble.  And most of us have a tendency to often treat people in our family worse than strangers since we know they won't leave us and they have to love us no matter what.  When we don't think there will be consequences for what we do, we get complacent. We start to slip.  We don't take as much concern about how we act and what we do and start to act like it doesn't matter.
And when we get to acting like that, we all need a prophet like Zephaniah to pull out a bullhorn to remind us of the truth.  To tell us again who our God is.  We need to be reminded that God isn't a sweet, meek God who aims to make everyone happy. God Our God is a loving creator and the final judge.  Our God is both the one who walks with us in our struggles and the one who has the power to bring destruction. 
God didn't just start the world spinning and step away for us to handle things on our own.  God can still bring destruction and judgment for the sake of the life of God's children.  Our God is one whose passion burns hot, so hot that it canseem out of control and scary.  As Zephaniah tells us, God cares about sin with "a fiery passion- a fire that can burn up the corrupted world."
And that's the kind of God we want. One that isn't worried about being nice and accepting everything that happens in life.  It's incredibly good news to know that God is so passionate about our lives that God is willing to burn up all that gets in the way of our health and life.  And it is good news to know that God has the power to destroy all that is evil in this world and in us, the power to turn our world upside down to end things like abuse and hunger.  But, what else does God's fiery passion mean for us?  What does it mean to have a God whose anger can burn so hot? What does it mean for our world and for our own lives?
It means that how we live matters.  And not just because we want to be a good person so that other people will like us and we can be proud of ourselves.   How we live matters simply because the judge of the whole earth commands us to act in certain ways. Simply because we don't make the rules and we are not incontrol.  How we live matters because our God sometimes lets the consequences of our sin burn us a little in this world in order to bring justice.  
Zephaniah speaks the truth that we like to forget- that our God is truly the ruler of everything and is too passionate about our lives to let sin go unchecked.  Our sin and the sin of our life together have consequences for us and for our world. The things that we do and the things that we allow to happen without stopping them have consequences.  And God will not always save us from what we have brought onourselves.  A God who deeply loves justice and deeply loves us cannot do that. 
God promises not to destroy us and to always return to us in love, but God also longs for our wholeness and our health- and not just ours, but that of the whole world.  And our God loves this world and each one of us too much to let us remain a mess.  That means that the passion of our God may burn hot against the sin in our world and in our hearts. And it may come enough that it hurts as it works to make us new. 
And yet, that is not our whole story.  These words of destruction are not the whole story for us and they weren't even the whole story for the people of Zephaniah's time.  Two chapters after the words we hear this morning, the prophet tells the people that after all these things, there will be a time when all those who seek God will be safe and will be cleansed from all that pulls them from God.  Zephaniah proclaims what God proclaims to us in Christ, "The Lord has taken away the judgments against you and the Lord is in your midst."  The harsh and scary words we hear at the not the end of the story for Zephaniah's people any more than they are for us.  Our God will remove our sin far from us and care for us. 
And that means that we always have reason to hope.  Destruction may be one part of our story, the pain of this world and the consequences of our sin maybe part of the story, but they are never the final word. We live always looking to the promise of love and mercy beyond the destruction.  We always look to the forgiveness beyond our sin.  How we live matters for us and for our world- it matters desperately- and yet God's love will always be the first and last word for all of us. 
So, people of God, people of a passionate and powerful God, live as if everything you do mattered deeply.  As if your words and your actions mattered more than you could imagine.  But also be bold in knowing and trusting that the love of God is always the last word for you and for all our world.  
Sermon for January 31, 2011

Micah 6:1-8

So God, a mountain and the people of Israelwalk into a courtroom.  It sounds like a great beginning for a joke, but instead it's the beginning of our words from the prophet Micah that we hear this evening.  Because God is taking the people to court. 

That doesn't seem quite right from the God we love.  Because we know that God loves the people of Israel, but the truth is that they've been misbehaving.   So God brings charges against the people and asks the mountains to be the jury because mountains are apparently quite rational about such matters.  God didn't want to bring a lawsuit against the people.  God wanted that awesome love of God to be enough to keep them on the right track.  But it wasn't.  And thanks be to God, we have a God who takes our lives seriously, whose love is so passionate that it's not willing to let us go in the wrong direction forever.  So sometimes God needs to slap a little sense into us, even if that's not all that comfortable. 
But as the mountains stand ready to listen and the case begins, God doesn't start my telling Israel all she had done wrong- all the worshipping other gods and going their own way and mistreating the poor.  Instead, God pleads as one whose heart is broken, "What have I done to burden you?  Why are you acting like this? What have I done that's made you so tired of me?" 
Remember, my beloved Israel, I love you and I treasure you.  I want nothing but life and abundance for you.  Remember when I brought you out of slavery in Egypt so that you could be free?  And from one side of the Jordan river to the other from Shittim to Gilgal, don't you remember how I watched over you- bringing you through the wilderness and into the beauty of the Promised Land? Remember how I was there to guide your leaders and watch over you and protect you?  And don't you know that this love that shepherded your grandmothers and great-grandfathers in the wilderness is the love that I still have for you?
And Israel can barely look at their heartbroken God.  Because it's hard to look at those who we have let down.  Those we have disappointed.  It's hard enough to look at our own failures.  But when we have to acknowledge that we have hurt those who love us dearly and let down those who only want what's best for us, it's too much.  It makes us want to crawl under a table and hide or desperately try to do anything to make things right again.  To restore that relationship that we'vebroken. 
So the people of Israel try to make it up to God.  To do something God likes, maybe send up some burnt offerings. God seems to like those.  "Will the Lord be pleased with thousands of rams?" they ask.  There's got to be some magic way to make God happy again. Like giving up something really big for Lent or promising to come to church every week or giving a bunch of money to the poor.  Come on God, what's it gonna take to make things right and get us off the hook?
And the reply comes, "God has told you, O mortal, what is good; and what does the Lord require of you, but to do justice, and to love kindness, and to walk humbly with your God."  The reply comes, there's no magic way to make things right with you and God.  There's only what you have always known to do.  And that's to walk on the good path that God has always taught you.  It is what brings life abundant for you as a community and as individuals before God. That's how you live in right relationship with God.  
God calls the people, calls all of us,back to the path we have always been taught to travel.  We are called to do justice.  Not to love justice or to think about justice, but to actually do justice. To actively work for fairness and equality for all people. Especially those that don't have what they need.  God calls us to be ones who puts things right.  To do that in small ways in our own lives by sticking up for those who get treated badly and sharing our food with the hungry.  And to do justice by working for the big changes in our country and our world by writing letters to senators and buying Fair Trade products and working with non-profits that serve others. 
Do justice, God says.  Be a community of people who cares for each others' needs.  Like my prophets have always called you to do.  Like the prophet Isaiah called you to, learn to "do good; seek justice, rescue the oppressed, defend the orphan, plead for the widow."    Do justice, like God does justice.  In a way that seeks the life of all people.  In a way that shows compassion. Do justice, for your God is just. 
And love kindness, God pleads with us.  And yet the Hebrew word hesed is so much deeper than kindness.  It's so much more than smiling at people on the sidewalk and holding the door open for them.  That word "kindness" means faithfulness and loyalty and compassion.  It's the kind of love that spouses pledge to each other and parents instinctively have for their children.  It means steadfast love, alove that never ends and will go through anything for the others' sake.  It's the kind of love that God has for us inabundance.  And the love God wants us to have for each other. 
God isn't calling us to be nice people,but is calling us love like God, to reflect the same love that our God has forus.  To radiate the same compassion and grace that God has poured out on us.  Remember, God says, how I have loved you faithfully, no matter what.  Remember how that love made me rescue you and forgive you and have compassion for you. Love like that.  This hesed that God's talking about is not a warm-fuzzy kind of love, it's a commitment to love God and love each other the way we've been loved. 
And finally, God calls the people to "walk humbly withyour God." But  "humbly" doesn't really say it right.  It's more like, walk carefully with your God.  Walk attentively with yourGod.  Walk like it's a game of Follow the Leader.  Keep your eyes always on the one you're following and be willing to trust God to know the way better than you do.  Walk through life looking to God, sharing life with God, chatting with God.  Let God call you back when you get distracted by the things of this world.  Let God be your constant companion. 
That's how  you make things right, God says.  Do justice,love kindness and walk humbly with me. Be my people again.  There's no magic thing to do.  There's no list of prayers you need to pray or offerings you need to give. There's no list of requirements to check off.  I want you to know my love and reflect it to the world around you.  So do justice,love kindness, and walk humbly with your God. 
It's simple,it's beautiful, it's poetic.  We love this verse.  It's one of the most quoted in Scripture.  I have it hanging in a frame on my office wall and Lutheran World Relief even uses it as part ofits slogan.  Because we want to live like this- in communion with God and with the world around us.  We want to bring justice and love into our world.  But then the real world comes and knocks us on our tails. 
Because although it's beautiful, living like this is a lot of work.   It's inconvenient and it's not always a lot of fun. And I don't know about you, but I tend to get distracted by all the things that have to get done right now or by the crappy things that happen inlife and I start to walk my own way rather than walking humbly with ourGod.  And yet, none of that changes what God calls us to do.  How God beckons us to live.  None of it changes that look of love in God's eyes that reminds us of the love we were created in and the love we're called to bless others with. 
The work of following God is hard and that's why God doesn't call us to do this on our own.  These beautiful words are given to the people of Israel-the whole community- together.  We're not called to walk humbly with God on our own.  We are called to walk together as a community.  That's part of why we gather together this evening- to be a community that lives this way together.  We gather among people with the same call.  And we gather so we can be people to strengthen each other as we try to follow God. 
As a community together, we can remind each other of who our God is and how much our God loves us when we forget.  We can call each other back to doing justice and loving kindness and can teach each other how to do that.  We can support each other when we stumble and encourage each other when we are tempted.  In the midst of a distracting world where it's hard to follow God, we have our brothers and sisters in Christ to walk the way with us- during this week, this semester, this time in college and through all the times to follow.  We have a community to help us to do justice when we are too weak or willful and to love us when we have forgotten how.  So that we can all be strengthened to walk with God and to help our neighbor to walk with God, too. 
God calls us to a simple, beautiful but impossible task- of reflecting who God is to the world around us, a world that is desperate to know the love and the beauty of our God. And God keeps loving us, reassuring us, challenging us and calling us back again to the beauty we were made in.  So that together we might do justice, lovekindness, and walk humbly with our God.